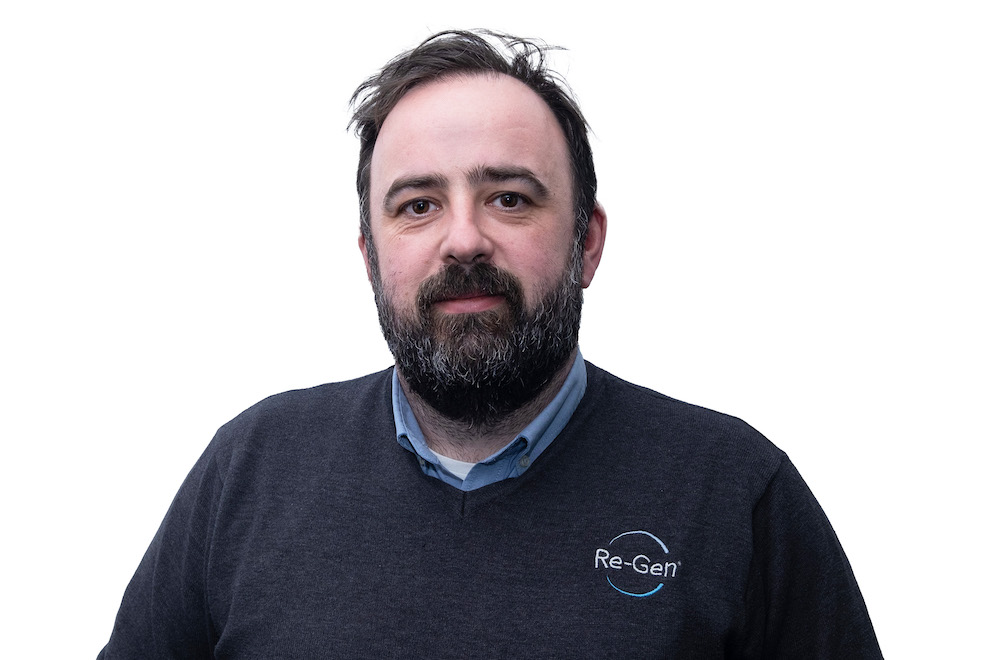 Jobs profiled: Louth McMahon Technical Development Manager Re-Gen Waste
What is your role in the company and what does a typical day entail?
I joined Re-Gen Waste as Mechanical Engineer in 2009 responsible for plant design and process improvements. I was promoted to Technical Development Manager in 2019 looking after research and development (R&D) within the company. I work closely with my R&D assistant Richella who is a Chemical Engineer.
A typical day starts with a virtual 'Teams' meeting with colleagues to discuss health and safety, production activity and other business issues. The rest of my day could vary from developing new technologies and processes for deployment or working on business cases for new products that we're developing. I may have a 1-1 meeting with my line manager or other members of the team.
Recently I've been assisting with recruiting other engineers across the Re-Gen Group. That has involved refreshing my selection and recruitment training, making a promotional film and sitting on interview panels. I have teleconference meetings with external companies, and academics at Queen's University or Ulster University. I often attend monthly Board Meetings with Executive and Non-Executive Directors to discuss our long-term plans. This year I have been delivering a STEAM programme with local primary schools, as part of our company's involvement with STEAM Education Ltd. Through their Engineering-in-a-box lessons with P7 pupils, we get the opportunity to give back to the community and, hopefully, inspire a new generation of engineers and scientists.
What was your route into the company?
I grew up on my family farm and my dad had a construction business that I worked in, also. My early interest in machinery and industrial equipment developed from working on the farm and being on building sites. I then studied mechanical engineering at university and then went on to work for Combilift Ltd, a forklift manufacturing company based in Monaghan for almost 10 years before joining Re-Gen in 2009.
How long have you been involved in this type of work?
I have over 22 years' experience in industry.
Where did you work before this?
My first job was our family farm on which I still help out. I then worked on various construction sites with my father as a general labourer. After qualifying as an engineer, I spent 10 years working for a major Irish forklift manufacturer, Combilift Ltd, in County Monaghan before joining Re-Gen.
What were your favourite subjects at school and why?
My favourite subjects were Maths, Physics and PE. My least favourite subjects were languages. Whilst I gave them a go, they didn't click with me in the same way as Science and technology subjects.
Did you go on to university or further education and what did you study?
I studied mechanical engineering at Ulster University in Jordanstown and graduated with a BEng in Mechanical Engineering.
Did you always have this career in mind?
I've always wanted to work in engineering. I found myself gravitating towards machinery, how things worked and, in particular, solving problems. I'm fortunate that my work involves all these aspects and challenges me daily.
What do you enjoy about it?
Like any engineer, I enjoy creating solutions to unique and challenging problems. I love seeing my designs come to life. I enjoy collaborating with colleagues in Re-Gen and with other companies. I've been able to set up trials, modify what they can do and analyse the findings – and use all this information to help develop new processes and products.
What are the main skills required for it?
Engineers create solutions. They need to be mathematicians, great communicators and have a flair for creativity. Attention to detail is vital as is the ability to learn new skills such as computer programmes. Having good organisational skills is very useful. Enjoying working with others is often balanced by working independently on research and developing prototypes. The recycling and waste industry is a very creative industry and there have been numerous developments in the last 13 years since I joined Re-Gen and there are many more to come.
What would your advice be to anyone thinking of it as a career?
Engineering is a super career. It is diverse, challenging and no two days are the same. That's a cliché but it is very true. I work with colleagues across the company – with staff in IT, Finance, Operations, Transport and Marketing. I work with industrialists and academics. Most recently I've been sharing my knowledge of all things engineering with local schoolchildren and their teachers and classroom assistants.
If you could do any job in the world, what would it be?
I had to give this question a lot of thought… I would like to be head of collections at the Smithsonian National Air and Space Museum in Washington. I'm fascinated by the Apollo missions and the moon landings. In this role, I could be involved in looking after space exploration displays, STEM (Science, Technology, Engineering and Maths) educational programmes, developing stories around historical giants, research and development, and even planning and hosting podcasts.
How do you relax when you're not working?
When I'm not working I spend time with my wife, children and family. I enjoy martial arts and I hold a 1st degree black belt in Ju-Jitsu. I'm a keen swimmer and I help out with my kids' teams for our local GAA club. Listening to music, especially AC/DC, is another interest and is great when I'm pottering about the garage mending 'things'. Science fiction is another hobby – I enjoy books and films. Family movie night is a favourite in my house!
To view job listings click here
Why not sign up to job alerts direct to your inbox here