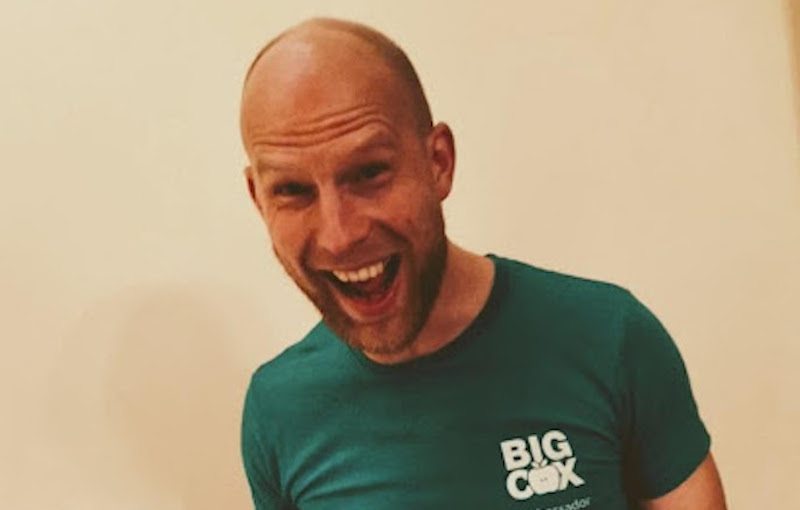 5 minutes with…Nik Jolmes of Big Cox Cider
This week we caught up with Nik Jolmes of Big cox Cider who gave us a little insight into the lighter side of the entrepreneur…
Check out his answers as we put these quick-fire questions to him..
Why did you choose cider making as a career/business?
I'm not sure I chose cider as a career. Its more the apples found me, spoke to me sweetly in the ear and said "squeeze me". I'm not originally from Armagh, but when I moved here in 2012 I couldn't ignore all those fabulous apples that I saw growing everyday just going into a pie somewhere. I wanted to make something that showed the area at its best and have a bit of fun doing so.
What are you most proud of in your career to date?
My first bottle on the shelf in J.D Tipplers in Portadown. It's my local off-licence and they've been really supportive. It was a great buzz seeing something I had produced alongside all the brands you see every day.
What is your favourite thing about your job?
There aren't many opportunities to do so, but I love being able to sell Big Cox at markets. I love people discovering it for the first time, seeing a little twinkle in their eye and bringing a bit of fun into people's lives. I particularly love it when they say "they don't like cider, but they love this."
What has been the biggest challenge in your job?
Those people who walk into an off-licence and go to the same shelf all the time to buy the same thing they always have. You know who you are. Please go and explore – you'll never know what treasures you'll discover.
What is the most helpful advice that you have been given?
Crawl before you can walk and walk before you can run.
If you could choose anything else to do, what would it be?
There are loads of things I'd like to do. Making Apple Brandy is close to the top of the list.
What do you think your best quality is?
Persistence. I made terrible cider for many years and had a fair number of exploding bottles as well. I'm still learning lessons and improving how I make Big Cox and moving towards the exact taste profile I'm looking for.
Name three things that you like doing outside of work.
Spending time with Family, Football coaching (Annagh United Tigers U10s), Triathlon
Tell us about a secret skill that we don't know you have.
I'm a mean juggler.
What is your most prized possession?
Time.
What is your favourite food?
Mussels cooked in cider – please do try it. Cider is a fantastic accompaniment to loads of great dishes, not to mention other drinks. I have a number of great Bigcoxtail recommendations on my Instagram page.
What is your favourite book?
Tuseday's with Morrie. An old man, a young man and life's great lesson.
What are you currently watching?
Derry Girls.
If you were to watch a band/singer live, who would it be?
The National – I've tried a few times but its not worked out yet.
Dead or alive, who would you most want to meet and why?
My dad passed away when I was young. It would be great to have a chat to him as an adult. Not sure what he'd think of Big Cox cider though…