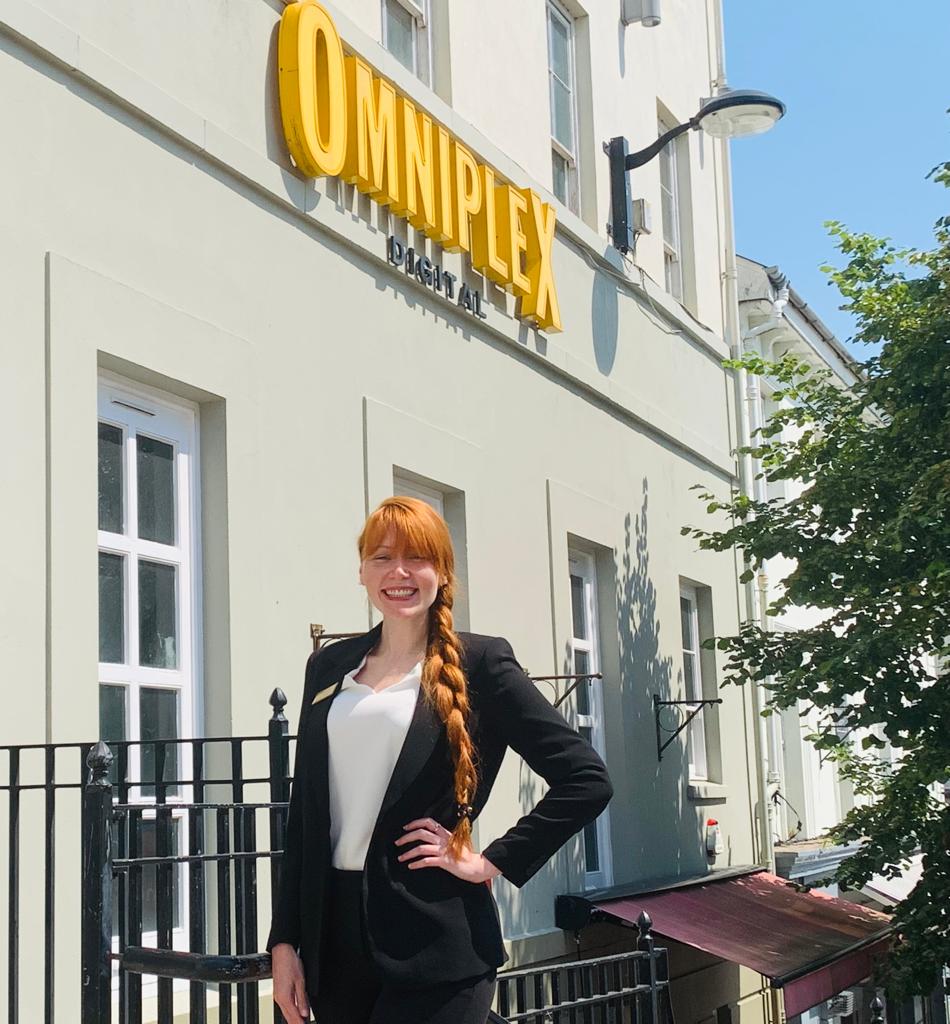 Never a dull moment for Omniplex manager Gemma whose life could rival any movie
Gemma Winchester is the newly appointed general manager of Armagh Omniplex.
The cinema reopened earlier this month after being closed since December due to Covid-19.
The 31-year-old, who was born in Singapore, moved to Northern Ireland in 2019. She has had a varied career, from wig designer to stand-up comedian and stunt performer. She has also travelled to 73 countries and is passionate about films and animals.
Q: What does a typical day entail?
A: I am in charge of every aspect of running the building. A typical day entails ensuring staff are aware of their schedule and are supported throughout their shift. I have to make sure scheduled movies are correctly uploaded into the respective projectors and that the shop is adequately stocked for the anticipated day's trade. I also need to keep on top of emails not only from head office but from public enquiries. Stocktake is done daily and any variances need to be investigated. Most importantly, my role is ensuring that all guests to my cinema have an enjoyable time.
Q: What was your route into the job?
A: I saw an advertisement and I applied. I have worked my entire life in entertainment and this industry is where my passion lies. I studied management at university in Australia; my first job as a teenager was at Warner Bros' Movie World as a wig designer. So when the pandemic took my entertainment career away from me, I worked as a special needs carer. I never gave up hope that I would find my way back to entertainment.
Q: How long have you been involved in this type of work?
A: My entire life. I grew up in Singapore and was featured in several commercials and even had a small role in the Singapore hit TV show Phua Chu Kang when I was 7 years old. I moved to Australia at 15 and began studying hairdressing, theatrical makeup and wig design. My grandmother was a designer for the theatre in London's West End and my mother was a dress designer in Bournemouth. Theatre was in my blood and I had the notion that if I learned wig design that I could work alongside my mother in the theatre industry.
Q: Where did you work before this?
A: I have worked at Warner Bros studios in Australia as a wig designer and performer, Aussie World as a stunt performer, TigerAir as a flight attendant and Carnival Cruise Line as comedy club manager and stand-up comedian.
Q: What were your favourite subjects at school and why?
A: Drama and history. I loved being able to express myself in school plays. History has always fascinated me and still does to this day. I believe only by thoroughly knowing our past and understanding the mistakes of our past, can we truly make our world better for each other for the future. I am planning to pursue palaeontology at university part time while still working as general manager.
Q: Did you go on to university or further education and what did you study?
A: I studied management at university in Australia. Truthfully, it was to attain enough points for a permanent residency visa. I am grateful, however, for my management qualification as it has led me into this great career.
Q: Did you always have this career in mind?
A: Yes. This is my passion and I really enjoy it. I am a firm believer that if you do what you love, you'll never work a day in your life. Find your passion, follow it, life is too short.
Q: What do you enjoy about it?
A: Firstly, I am a nerd and love all the movies; secondly I love being able to be a part of bringing joy into people's lives. I enjoy creating an enjoyable and memorable experience for my guests. I also enjoy being a positive and motivational leader to my staff.
Q: What are the main skills required for it?
A: Patience, forward-planning, organisational skills, situational awareness, having initiative and being able to work on your own as well as part of a team. It is very important to be able to anticipate the needs of your guests. I need to be able to understand all aspects that go into having an enjoyable experience from service wait times at the shop to sound and picture quality to the cleanliness of each of the  theatres themselves. This job requires you to not only be very efficient with paperwork in the back office but also very good with front of house person-to-person interaction.
Q: What would your advice be to anyone thinking of it as a career?
A: I would always encourage anyone to follow their dreams. I would advise getting previous management experience. I was lucky enough to have experience creating rosters, paying wages and doing stock taking in my previous roles so really my only learning curve and adjustments was to do with projectors and technology. I would suggest a degree in management to give you the fundamental skills and maybe even doing a short IT course. Most importantly, you need to be passionate about the entertainment industry and all that comes with that.
Q: If you could do any job in the world, what would it be?
A: To be honest, I absolutely love what I am doing right now. If there was some way I could give the joy of cinema to people around the world in war-torn countries or places where people have lost hope, I would.
Q: How do you relax when you're not working?
A: I relax by spending time with my family, my partner and my dogs. I also absolutely love animals and volunteer in shelters and animal sanctuaries. Animal rescue takes up a lot of my spare time. I am addicted to travelling around the world and publishing travel blogs. I have visited 73 countries so far with no intention of stopping. On a quiet evening, I enjoy writing. I am currently writing a fantasy novel that I hope to publish in time for next year's Comic-Con. I also enjoy playing video games with my friends and learning to play new songs on the piano.