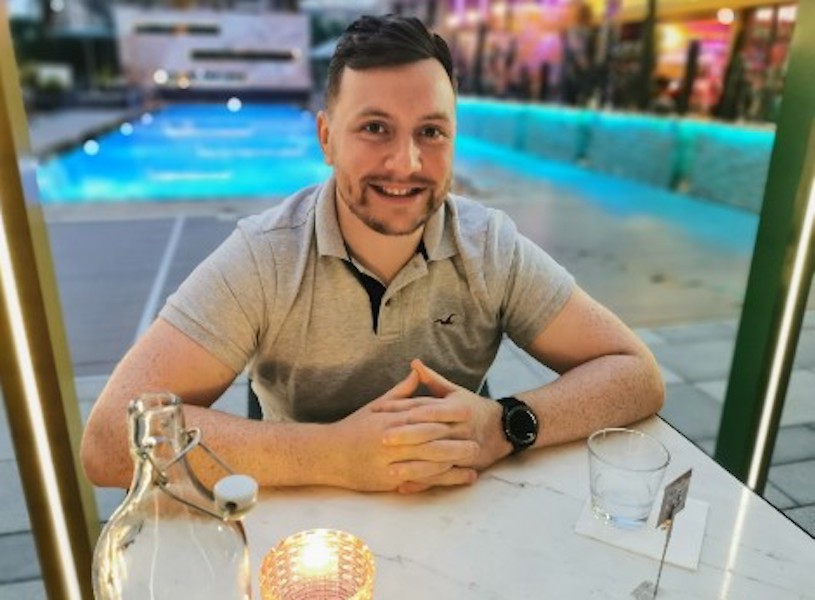 Data and Dubai: Matthew McCarthy's unconventional route to becoming a Product Analyst in Middle East
Dubai is a long way from the rolling hills of County Armagh but for Matthew McCarthy it's a place he now calls home.
Having met his partner Sarah – a native of South Africa – in Dingle, Kerry, the Clady man fell head over heels, and with it, took the opportunity to up sticks to the United Arab Emirates two years ago. Here, Matthew works as a Product Analyst at Talabat – a far cry from the journey he set out on at university,
Q: What does a typical day entail?
Working for a food/grocery delivery platform in the Product and Tech team (check out Talabat.com). Each day is quite varied really but often involves analysing the success of new features on our app, developing reports, working with numerous stakeholders in the business on different projects.
Q: What was your route into the company?
I wanted to network with as many industry leaders on LinkedIn as I could. Sometimes you can get lost in mass applications for certain roles, so it can be good to put the feelers out for potential openings. Following this I learned from the Director of Data Analytics of an opportunity that may suit my skillset. I applied, and following three rounds of interviews and a technical assignment, I received an offer.
Q: How long have you been involved in this type of work?
Within Data Analytics I have been involved for around eight years. This is my first role working for a purely tech company.
Q:What did you do before this?
Previously I worked as a Data Analyst in Banking and professional services firms. More or less since I left university I have been working with data in some form.
Q: What were your favourite subjects at school and why?
Probably economics and geography. I liked economics because it was interesting to learn about current events. I also enjoyed learning about geography as I have an interest in the diversity of the subject.
Q: Did you go on to university or further education and what did you study?
I studied Geography at Queens. I chose this because I didn't know what I wanted to do as a 19 year old! As mentioned above I liked the broad nature of the subject and this was my motivation for choosing it. Some classes involved economic geography while others were about physical geography that I really engaged with. Following university I participated in an Assured Skills course in Data Analytics with Belfast Met and Dept of Learning NI.
Q: Did you always have this career in mind?
Before the assured skills course, no. I thought I wanted to work in banking. After the course however, I was hooked on Data Analytics. Understanding the endless insights data can provide, how it can be used to forecast and predict was enough to know I wanted to pursue a career in this industry.
Q: What do you enjoy about your job?
Freedom to provide insights I find may be beneficial to the business. Being able to experiment. Being able to create interactive reports and dashboards that the wider team can use.
Q: What are the main skills required?
An analytical mind. Good with numbers. Creativeness and of course some technical skills. A programming language like SQL can go a long way.
Q: What would your advice be to anyone thinking of it as a career?
Avail of any opportunities that are out there to study. I also upskilled with a Higher Diploma in Data Analytics whilst working in Dublin. This was a fully-funded course which was great. There are many conversion post grad or masters courses out there for people like me who studied something very different.
Q: Is there career progress within the company?
I believe so. The company was recently acquired and the stock price is doing well. All the indicators and growth show the potential opportunities should I perform well. There are good steps and goals in place to progress. Seeing the rapid growth first-hand makes it an exciting journey to be a part of.
Q: If you could do any job in the world, what would it be?
Excellent question. Most likely running a successful Analytics/Business Intelligence consulting firm. I do want to be my own boss, and a side project my partner and I are currently launching, is a classifieds website in the Middle East. We recently won a radio competition for startups, 'The Entrepreneur 2021' by Beat FM here in Dubai which will help us get the business off the ground in the next few months. The business is is called linkup.ae – an exclusive tutor/coaching classifieds website in the Middle East.
Q: How do you relax when you're not working?
I like to play golf. We are blessed with many world class golf courses in Dubai. I also play GAA for Jumeirah Gaels which is great craic and helps with any homesickness!
If you are a data engineer/data scientist and are keen on a move to Dubai reach out to Matthew at mmccarthy062@gmail.com
Check out the latest jobs from in and around Armagh here.