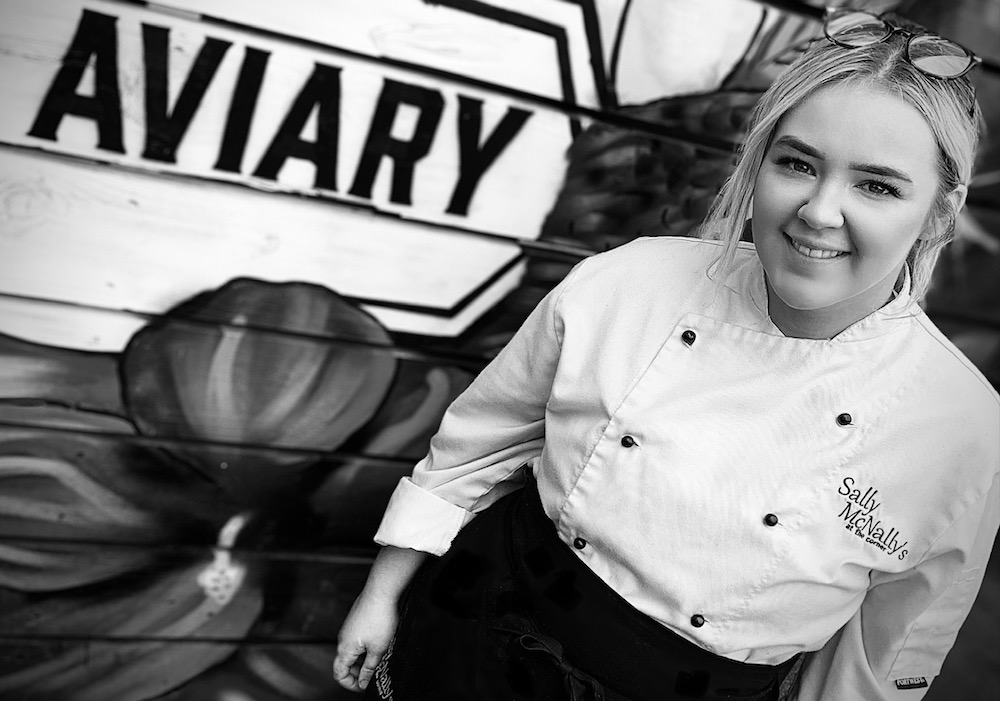 From waitress to head chef! How perseverance paid off for Portadown's Kirsty Stevenson
In our latest Armagh Jobs profile, we caught up with new head chef at Sally McNally's in Portadown, Kirsty Stevenson.
For the 22-year-old from Portadown, it started from learning the ropes as a waitress….
What is your role in the company and what does a typical day entail?
I am the new head chef of Sally McNally's, which I am very proud of the fact I've been able to achieve this and been given the opportunity to show myself and my skill sets in a new way. It's a very exciting experience that I aim to embrace and give my all towards. A typical day for me involves coming in and prepping for a busy evening service, while helping to prepare my team for the evening we have ahead
What was your route into the company?
I started in Sally's just over five years ago when John (the owner) asked me to come in as a waitress; eventually after a few months I started to help with desserts when it was busy. An opportunity then arrived where we were in need of a dessert chef as the previous one had left. I was asked if I would be up for moving into the kitchen full time, becoming part of the kitchen team, while at the same time observing and taking in, all the team at the time, had to teach me.
It was by far was one of the best decisions I have ever made. I then eventually stepped up into the sous chef role through a couple of years of hard work, and now the head chef, all in the space of five years. The dream Sally's always set out was to bring in individuals and help them to realise their potential, as well as guide them to their passion and help them along the way, and for that I am extremely grateful. Now I am excited to help build upon that ethos.
How long have you been involved in this type of work?
I've always had an interest in the hospitality trade from my first ever job at 15 where I started part time in a local country pub. Back then I was just a waitress who ran plates and polished cutlery, since then I've been in and out of this trade but I always managed to find myself back in it.
Where did you work before this?
I've worked in many places doing many different things, from a receptionist of a hairdresser's, a shop assistant, a bar woman, and an assistant physio for a local football team. All of these different kinds of jobs taught me a lot of different skills, which I could pull together to now use in this next chapter of life.
What were your favourite subjects at school and why?
My favourite subject in school where always the more hands on subjects, such as home economics, art and science, due to the nature of enjoying the practical sides of things and always being a very creative person. I think, from there stemmed my need to be in a job where I am always active and doing something as I get bored easily, so sitting at a desk in an office would never have been the job for me. This job is the perfect job as there is always something to do or be at and it also allows me to be creative and use my creative nature for good and to create different exciting and new dishes.
Did you go on to university or further education and what did you study?
I did ICT, health and social care, and travel and tourism at A-Level, where an interest in the tourism and event planning side of things peaked, I often think if it wasn't cheffing that I was doing it would be something in events planning or management.
However, when it came to choosing a university course I did something completely different and thought I wanted to go down the physiotherapy route, so I went to study health physical activity and sport. I did this due to having experience in this field and my mum being in the medical field. Half way though my time at university though, I realised that it wasn't for me and there was somewhere else I always wanted to be and that was in a kitchen learning about and being creative with food.
Did you always have this career in mind?
I always knew that this would be the industry for me but I didn't know what part of it I wanted to make a career in. I'm a very bubbly person and as many who know me will tell you, I like to talk to people, so this industry was aways going to be perfect for my friendly nature.
What do you enjoy about it?
I can't lie and say there aren't times when I don't question why I'm doing this job but that comes with the nature of the industry, anyone in it will tell you that we all have a love-hate relationship with it, but the good always outweighs the bad. Teaching my team and still always learning off them are some of the reasons why I keep doing this. In this job there is always something new to learn and new skills to keep you on your toes, so I love the fact that I myself will always still be learning.
At the end of the day this is my passion and there is no better feeling that making someone smile or changing someone's day with a bit of good food and friendly service, and that's what we always aim to achieve at Sally's.
What are the main skills required for it?
I'd say my skillset has had to adapt since taking over as head chef, due to now having requirement to manage people. All of these I learnt over time from my previous head chef who taught me most of what I know about running a kitchen and a team; he also taught me and allowed me to express my creativity, and for that I am extremely thankful to him.
I'd say the main skills you've got to have, as well as having knowledge and skills about food and methods of cooking, is you also need to have a willingness to lead and teach what you've learnt along the way onto others.
What would your advice be to anyone thinking of it as a career?
There are times you'll want to pull your hair out and get up and leave, but persevere through as there are so many rewards doing a job you love and have a passion for. This job requires long hours and a lot of sacrifices but I know for me they've all been worth it, as when you work hard enough for something, you get what you want out of it. I've met so many amazing people along the way and I know here we've all became one big family from spending so much time together, and I wouldn't change it for the world.
If you could do any job in the world, what would it be?
I think if I wasn't a chef I'd still be somewhere in the hospitality industry, maybe in events management or planning, as that was my second option for university; again being that is it a people-orientated job and a very active and creative one at that.
How do you relax when you're not working?
Sally's close a Monday and Tuesday for food, so a Sunday night is basically our Friday. Some Sundays I have a few drinks with friends, and family, and catch up with them when and where I can. Even on my days off I'm always learning about food, my boyfriend's a chef too so we spend most of our days off traveling to try new restaurants and enjoying what others in our industry have to offer. It's nice to get treated and have someone cook for you and appreciate good food.
Check out all the latest roles on Armagh Jobs.
Check out other job profiles on Armagh Jobs here.