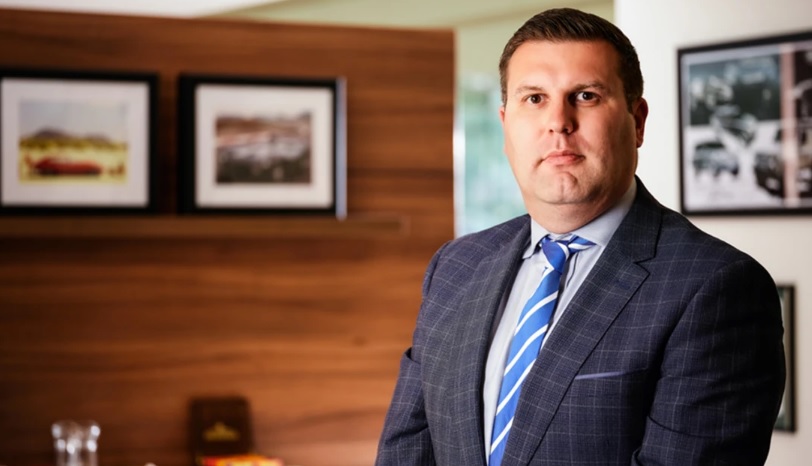 Donnelly Group names Andrew Dickinson as Head of Marketing
Andrew Dickinson is the new Head of Marketing at Donnelly Group, responsible for promoting the core services of the Donnelly Group and its 18 partner manufacturers.
What are the main responsibilities of your role?
In addition to overseeing the Donnelly Group brand and delivering innovative strategic marketing solutions, I am responsible for the promotion and support of our 18 manufacturers.
Each brand that we work with requires a different approach and it has been great to dive right in and align our marketing activity with their specific objectives.
I also lead the marketing team and will be working closely with all of them to further their professional development and bring together their individual skillsets and build on their experience to maximise the effectiveness of the team.
What makes Donnelly Group a special place to work?
As Donnelly Group is Northern Ireland's largest family owned vehicle retailer, there is an existing culture of teamwork and excellence that drives motivation amongst the staff. I was welcomed with open arms and already feel very much part of the team.
My values and that of Donnelly Group are very similar – attention to detail, excellent customer service, and outstanding quality – so it's a great match.
What experience do you have?
I join the team with over 15 years' experience in automotive marketing. My first role out of university was with Wilsons of Rathkenny, where I had the privilege of introducing the digital transformation.
I stayed in this role for eight years before moving to Mercedes-Benz Truck and Van. I enjoyed working with a prestige manufacturer that had a very process driven outlook on marketing. This suited my tactical way of thinking well!
Before moving to Donnelly Group, I was the Marketing Manager at Wilsons Auctions, where I worked on marketing campaigns for all types of auctions with some highlights being supercars, luxury brands, movie memorabilia, high end jewellery and cryptocurrency to name a few. This was quite different than what I was used to, but I learnt a lot from this role that I carry with me today.
All of this experience has shaped the marketer I am now. It's not everyday that you get the chance to work with one of Northern Ireland's top car and van retailers, so when the position with Donnelly Group opened, I knew I had to apply!
What plans do you have for Donnelly Group?
The past 18 months have brought about changes for the automotive industry, and Donnelly Group has had to adapt to a new way of doing things by offering contactless sales, the ability to order a new vehicle from your sofa, and introducing additional hygiene measures.
As we emerge from the pandemic, the world is really quite a different place so it's a really exciting time to join the team and get to grips with the new 'normal'.
I hope to further enhance awareness of the brand across Northern Ireland, as well as supporting the local communities we work with and empowering members of the marketing team to advance their skills and potential.
With the recent discussions at COP26 and the heightened awareness that we need to reduce our carbon footprint, it is clear that electric vehicles are the future. We want to be at the forefront of this revolution and have the capacity to offer our customers the same great choice with electric models that they have come to know and love.
It's also an excellent time to buy and sell a new vehicle, and I want to emphasise the benefits of choosing Donnelly Group to do this. Our professional sales team is next to none, and with almost 75 years' experience, we pride ourselves on delivering exceptional service that exceeds the expectations of our customers every time.
What is your biggest achievement to date?
Professionally this would be having my team being finalists for Marketing Team of the Year in the CIM Ireland Marketing Awards. While I was also a finalist for Marketer of the Year in the same awards, I prefer to recognise the achievements of my team.
I do hope that the marketing team at Donnelly Group will receive similar recognition or go one better and win at similar awards in the future!
On a personal level, I am very much a family man. Outside of work I really enjoy spending time with my wife, Claire, and our kids. I have a 10 year old son, Ben, and a 3 month old son, Zak, who keep me occupied.
An achievement I am proud of was helping my son, Ben, to raise over £7,000 for the NI Hospice over lockdown. He ran one mile each day for 26 days, which equated to a marathon and got a surprise from Marcus Rashford on Sky Sports.
To view job listings click here
Why not sign up to job alerts direct to your inbox here