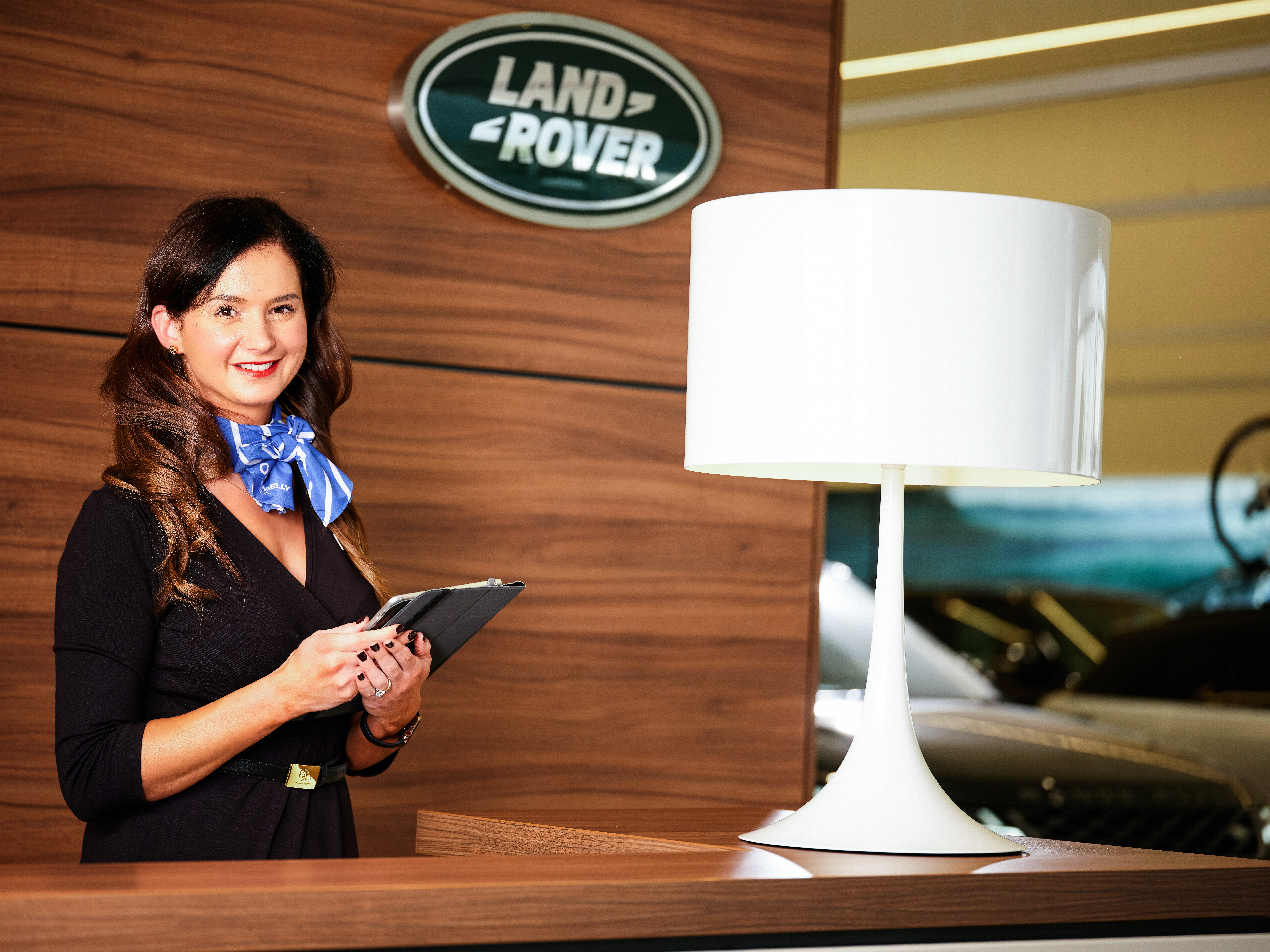 Job profiles: 'People person' Erika just loves her host role and being part of a family firm
Erika Hudakova is a showroom host at Donnelly Group's head office in Dungannon. When she first came to Northern Ireland 16 years ago she didn't speak English and was very homesick, but since joining the Donnelly family, all that has changed.
What does a typical day entail?
I welcome every customer through our doors, managing their visit by directing them to the correct department efficiently, offering refreshments throughout. I also manage incoming calls and I am responsible for connecting the diallers to the right department promptly.
When customers call the showroom, I am the first impression on the phone so a warm and cheerful voice, with the ability to efficiently transfer the call, is essential. I also help proactively manage the experience of whoever visits our showroom so that each customer and guest feels that they have had a uniquely personal and bespoke service.
What was your route into the company and how long have you worked there?
When I first joined the company, I was a host for Land Rover in the original showroom before we moved to the new state-of-the-art Jaguar Land Rover building back in 2018. My job has always been focused on greeting customers and creating a welcoming environment while the customer is waiting to see a member of the sales or after sales team.
Since we moved to the new building, we now have the Jaguar product on offer too. With that, my role has expanded with a higher volume of customers for both sales and after sales. I welcome customers as I always did, but now I have the opportunity to get to know a bit more about customer needs and then I can direct them to the right person.
Where did you work before this and how long have you been in the profession?
I moved from Slovakia in 2006, and have been involved in customer centric roles ever since. Before joining Donnelly Group, I worked as a lobby hostess for restaurants for a number of years and what I enjoy most is the chance to meet new people, learning to speak English by talking to customers everyday and working in a fast-paced environment.
Those aspects of the job make me excited to come to work every day and I consider myself to have great organisational and communication abilities, so I love having the chance to use them as a hostess to manage a variety of reservations, customers and other tasks.
As a hostess, I understand that I hold a crucial position within the business. As the first person customers meet I must create a welcoming environment that sets the rest of their visit up for success. I enjoy taking the time to get to know customers and satisfy their needs to ensure they have a great time.
From that point, I realised that I enjoyed a challenge and after building my confidence in the Northern Ireland working environment I moved on to become a car showroom host.
What were your favourite subjects at school and why?
My favourite subjects at school were opera singing and folk dance. For me, those subjects are about enjoying yourself, enjoying the process of being with people and creating with people.
Did you always have this career in mind?
I always knew that I enjoyed working with people and I knew that the right role would find me and finally I have found exactly what I was looking for.
What do you enjoy about it?
I have always said, choose a job you love and you will never have to work a day in your life. This is so true for me. I absolutely love my job and I feel part of the family. I love being busy and part of a growing team. It is very enjoyable because I get to work with individuals who all bring something different to the company's growth. It's really satisfying to see, almost like all these parts of the puzzle coming together. I love the fact that every day in the business is different, the variety of the job and above all else, the people – I am definitely a people person!
It's amazing to see the relationship that so many customers have with the Donnelly family. So many of our customers tell me stories about their relationships with Terence, Raymond and their father Peter, as well as stories of the old days in Caledon. I love being part of a real family business.
When I first came to Northern Ireland 16 years ago I didn't speak English, and ended up being very homesick for years but since I joined the Donnelly family, that all changed. I will never forget the opening day of the new showroom when Terence said to me, 'Erika, this is your new home now', and it is!
This business has an amazing history and with many local customers since day one, I feel part of it – I don't want to go back to Slovakia because Donnelly Bros isn't there (unless I save up lots of money and open one!). You have to dream big, to get big!
What are the main skills required?
The core skills are customer service expertise, being a people person, professionalism, ability to multi-task and high energy. Fundamentally, the most important characteristic of a good hostess must be to have a genuinely welcoming personality. Essentially my role is about hospitality, totally focused on customer service, making the customer experience the best it can possibly be!
Donnelly's are always supporting me within this role and I am currently learning more about the product offering to boost my confidence when speaking with our customers before they move on to the sales team. Personal development is very important to me and I get this within the Donnelly family.
What would your advice be to anyone thinking of it as a career?
In Donnelly Group, my role isn't your typical showroom host role – as we are representing such a premium brand there is a level of expectation from people and you need to be prepared for the world of customer service! My advice would be that you need to be open-minded and compassionate from get-go. Less is definitely more at times!
If you could do any job in the world, what would it be?
There really isn't any other job out there that I want. I love being a host and couldn't envision myself ever leaving for a different job or retailer. I get to work with customers who have been loyal to this family business for many years; I manage the showroom and stay on my feet all the time. It's perfect for me! One day, I'd like to open and host customers in a Donnelly Group showroom in Slovakia too, which is the only other position I could picture myself in.
How do you relax when you're not working?
My husband, my son, our dog and I are a tight team. We love to go hiking and running together, and have taken part in lots of charity runs together – even a half marathon. We love to walk our English Bulldog Coco Chanel in Dungannon Park. We all love Coco so much, she makes us laugh everyday and is definitely our family therapy!
I am from Slovakia which is a landlocked country so we absolutely love to get to the beach and spend a lot of time on the North Coast and in Donegal, to smell the sea and hear the rolling waves.
To view job listings click here
Why not sign up to job alerts direct to your inbox here