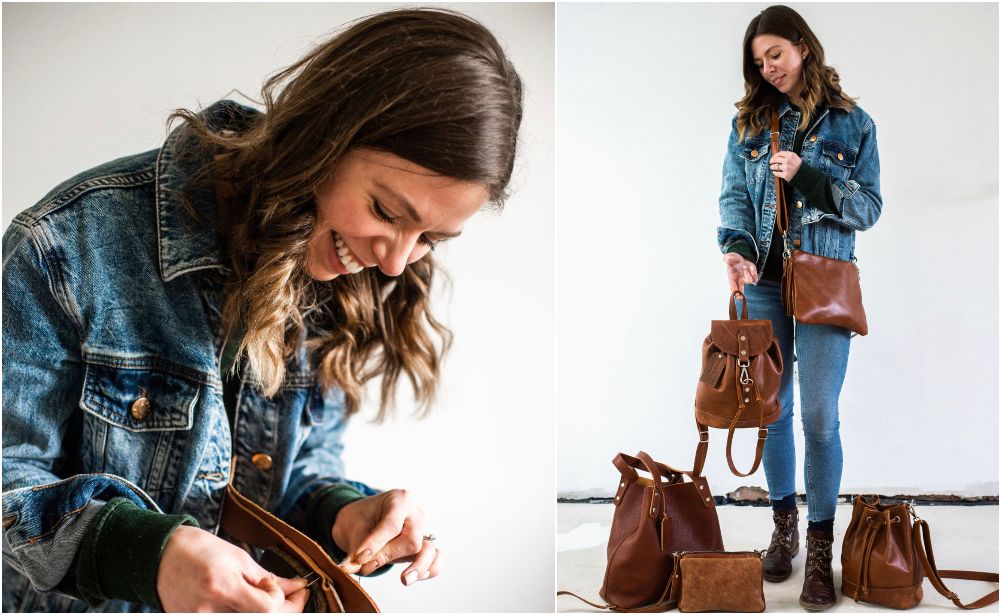 5 minutes with……Emma Stinson of Simply E Designs
Richhill woman Emma Stinson is the owner of Simply E Designs which designs and manufactures bespoke leather handbags.
We put a few questions to Emma…
Why did you choose Simply E Designs as a career/business? 
I choose Simply E Designs as a career and business path mainly because throughout my years of study, the appeal of having a business was always something that interested me. I also am very blessed to have inherited a niche set of skills being born into a family of saddlers. Leather skills that was important to me and that couldn't go to waste! So I decided to put my leather skills into practice and design contemporary bespoke leather bag wear that cannot be bought on the High Street. I also am a qualified weaver and fabric designer which fabrics feature in my S/S bag range.
What are you most proud of in your career to date? 
Oh boy where to start. I would say my most proud moment to date would be seeing one of my designer bags being carried out in public. This honestly is the best feeling that money could not buy. Or, the latest to date, is being approached as Simply E Designs or you're the girl that makes leather handbags; this is an amazing feeling of recognition for who I am and what I make!
What is your favourite thing about your job? 
To be able to be my own boss, pick my own hours to work around me and to be able to do what I love every day and get paid for it!
What has been the biggest challenge in your job? 
I think the biggest challenge for me is getting my name out there as a bag designer. Getting people to buy into your brand and your product, I feel this will vary from business to business but from my own personal experience this was considered a big challenge. Three things that I would say is so important is finding your niche, market and community and without these my bag brand would not be where it is today.
What is the most helpful advice that you have been given? 
Oh boy. I would say the most helpful advice is back to the three points that I touched on in the last question which is: what is your niche, market and community?! Honestly if you have taken the time to focus on these three points you will start to reap the rewards.
If you could choose anything else to do, what would it be? What do you think your best quality is? 
This is funny because I honestly feel like I have realised this through building my own business. As I am naturally blessed with creativity and skill I am also very blessed with sales skills. I love to chat and tell my story to you all and return I feel this is what gains me my sales. It sis o true but people buy into you so it takes you to have a personality in many case. So if I was to work in a different career path it definitely would be marketing/advertising or visual merchandising.
Name three things that you like doing outside of work.
So I love to go for walks, travel and cook.
Tell us about a secret skill that we don't know you have?
Oh a secret skill… I am a good people reader I can tell straight away if something is up just by looking at someone. My judgement is usually spot on most of the time. If that counts ha-ha
What is your most prized possession? 
Oh for sure, my dog Lucy, I am a total Dog Mamma! Or my Singer sowing machine which was my grandfather's; its very sentimental to me and I use it to manufacture my handbags every day.
What is your favourite food? 
Definitely has to be steak! Yummy.
What is your favourite book? 
I actually don't read. I would rather watch something.
What are you currently watching? 
I am watching two series at the moment which is Celebrity Ex on the Beach and the New Keeping up with the Kardashians. I love reality TV!
If you were to watch a band/singer live, who would it be? 
I probably would watch Luke Holmes or Kip Moore. I am a real country girl at heart!
Dead or alive, who would you most want to meet and why?
If I could meet anyone again I probably would choose my grandfather; he was the first saddler in our family and whose tools and machinery I still use to this very day in manufacturing my own handbags. I would just love to hear his thoughts and if I am making him proud.
Website: www.simplyedesigns.com – Instagram: https://www.instagram.com/simplye.designs/?hl=en –Facebook: https://www.facebook.com/SimplyEByEmma/ – Pinterest: https://www.pinterest.co.uk/SimplyEByEmma/