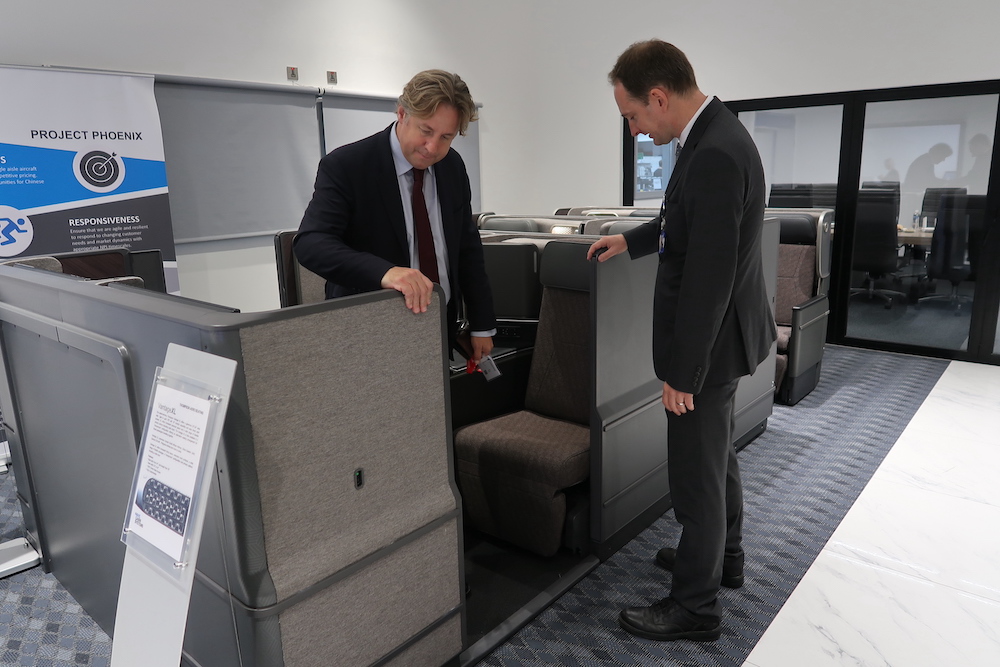 New UK Minister for Exports visits Thompson Aero Seating in Portadown
The newly appointed UK Minister for Exports, Marcus Fysh MP, visited Thompson Aero Seating in Portadown, County Armagh this week, along with Carla Lockhart, Member of Parliament for Upper Bann.
The Minister and MP's visit was to see for themselves the design, engineering, and production facilities where Thompson Aero Seating creates world-class passenger seats for the commercial aviation industry and to discuss the company's plans for continued global growth.
Conservative MP for Yeovil since 2015, Minister Fysh was appointed to his new role on 20th September 2022; this is his first official visit to Northern Ireland since being appointed. Carla Lockhart MP has been a member of the Northern Ireland Assembly since 2016 and Member of Parliament for Upper Bann since 2019, so was able to give an invaluable local perspective.
The delegation met with Peter Bell, Chief Financial Officer, and Mark Collins, Head of Human Resources and Development, at Thompson Aero Seating.
Thompson Aero Seating manufactures innovative and premium aircraft seats for business- and first-class cabins with a worldwide customer base featuring many of the world's top airlines including Delta, Swiss, China Eastern and Singapore Airlines.
UK Exports Minister Marcus Fysh said: "Exporting plays an important role in creating and retaining jobs, boosting local economies and levelling up every part of the UK, and Thompson Aero Seating's innovative products are proof of this.
"I am delighted that my first visit as Minister for Exports is to Northern Ireland and that I have had the opportunity to meet with Thompson Aero Seating, a key exporter driving the local economy. As an employer of over 600 people in Northern Ireland, Thompson Aero Seating is a shining example of how a dedication and commitment to exporting globally, can positively impact the local community."
Peter Bell, Chief Financial Officer at Thompson Aero Seating, said: "It was a privilege to be able to introduce the Minister Fysh and Carla Lockhart MP to many of our colleagues and to show them some of the innovative seating solutions for which we have become known around the world."
Visit: www.thompsonaero.com
Main image: Minister Fysh & Peter Bell