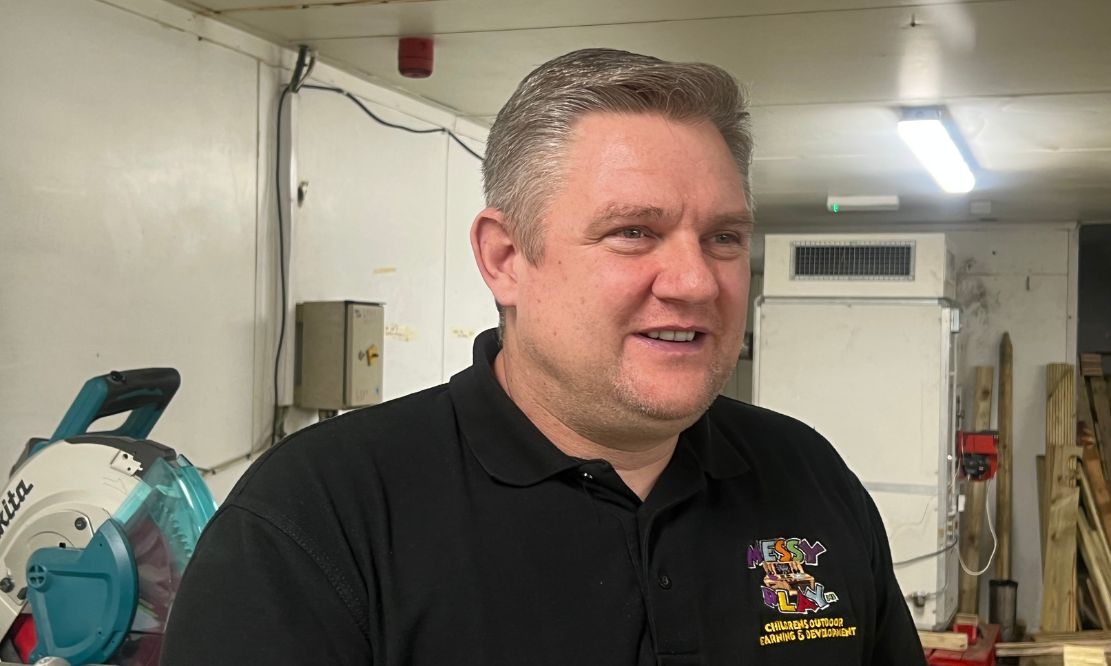 Motorbike accident prompted Gary McSherry to redefine educational play in NI
It was just two years ago that Gary McSherry established MessyPlay NI in Richhill and is now in the course of redefining educational play in Northern Ireland.
Children, in schools and at home, across the country are now benefitting daily from Gary's endeavour and cost-effective ingenuity.
Several years ago, a severe motorbiking accident left Gary unable to work due to the life changing injuries he sustained. Rather than be defeated by the cards he was dealt that day, Gary took the opportunity to reinvent himself, building (quite literally) a new future for himself and his family.
What is your role in the company and what does a typical day entail?
I am the Managing Director of MessyPlay NI. There is no such thing as a typical day within MessyPlay! We are a small family run business, so I have many hats to wear each day. I can be on a site visit, drawing up plans and quotes, to working in the factory manufacturing products.
What was your route into the company?
I formed MessyPlay NI two years ago this December, the sole purpose in forming this business was to create good quality products to the schools within Northern Ireland and to do away with the extortionate prices of other companies.
Schools run on a very tight budget, with our products in some cases the schools can get 3 items for the price of 1 from our competitors. Unfortunately, this is the way it has been for years, and we are now making a change. The children are the ones that benefit from this and to us, that's what it's all about.
How long have you been involved in this type of work?
Two years
Where did you work before this?
I was out of work for around five years due to a motorcycle accident, I sustained life changing injuries. Prior it this I was in the waste recycling business. I worked as Operation Manager for Veolia Waste Management which I worked for 20 years.
What were your favourite subjects at school and why?
None, I hated school…. This is another reason for why we started MessyPlay, if the schools had these products when I was at school there is NO doubt that I would have spent more time and would have had more interest in it.
Did you go on to university or further education and what did you study?
No, I did a working degree in Waste Management in my time with Veolia
Did you always have this career in mind?
No, I always had a passion for DIY and was always good at this line of work. I didn't realise how much I liked it until I started making our own products.
What do you enjoy about it?
I love everything that I do, but nothing comes close to seeing the kids' faces and reactions when delivering our products. Some schools have absolutely nothing for their outdoor education, you just know how much these mean to the kids and the teachers, teachers are sometimes more excited than the kids!
Knowing that our products are helping children of all ages with their development and growth is humbling to say the least, what more do I need to say!
What are the main skills required for it?
You think I would say joinery experience, but I am proof that this isn't the case. It's like everything in life, if you have a passion for what you do, everything comes natural to you.
The most important skill you need is knowing how to respect people, whether its people you work with or people you do business with. We treat people the way we like to be treated and it's kept us in good stead thus far..
What would your advice be to anyone thinking of it as a career?
I always say, go with what you enjoy, as the saying goes, if you enjoy what you do, you'll never work another day in your life….
If you could do any job in the world, what would it be?
What I am doing now, I can't ever see myself doing anything other than this….
How do you relax when you're not working
I don't think there's such a thing as not working when you own your own business. We are always thinking of new projects and product development.
Read more about MessyPlay NI here
If you would like to take part in our job profiles please email marketing@armaghi.com