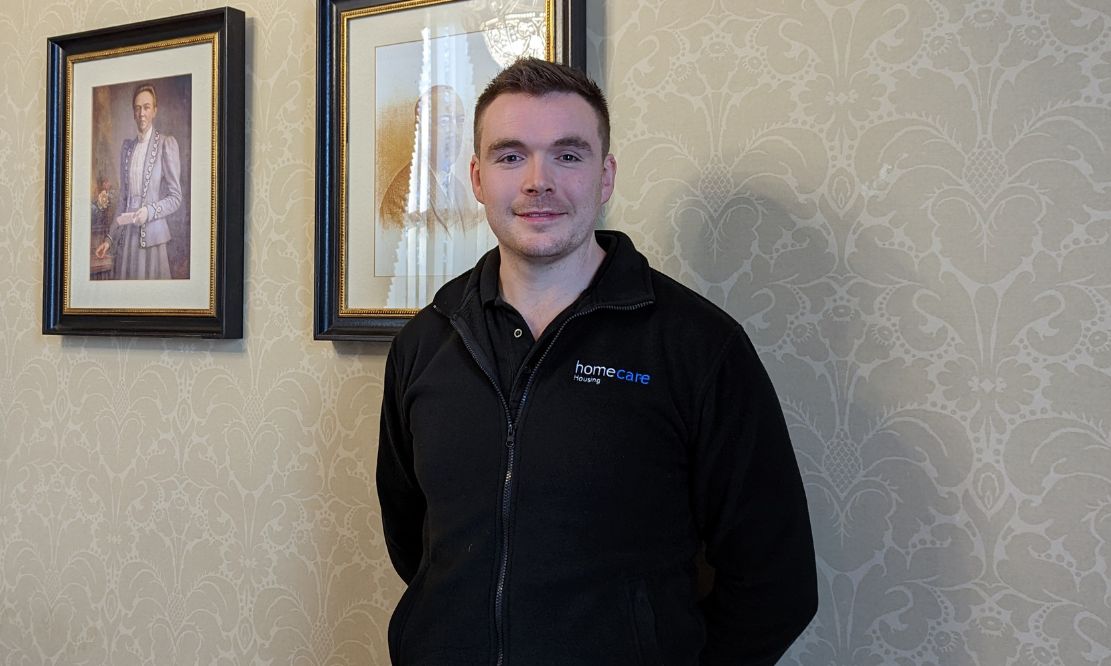 'It's all in a day's work' for Cormac Gribben as he helps provide housing to those in need
Admittedly, Cormac Gribben was never afraid of a hard day's work. His father instilled in him a keen interest in construction from an early age, an area he worked in for some time as a youth.
Fast forward to 2014, Cormac began his career with Tarasis Enterprises – then known as Homecare – and now has the privilege of providing safe and suitable housing to those in need.
As Head of Housing, Cormac's day to day varies but he loves the challenge and finds his role incredibly rewarding. He recognises the importance of effective team work and counts himself lucky to be working for a company that very much fosters a 'family culture' amongst its staff.
What is your role in the company and what does a typical day entail?
My role is Head of Housing Operations for Tarasis Housing, which is a division of Tarasis Enterprises. We provide 3500 beds every night across Ireland, working with the Northern Ireland Housing Executive and the Trusts to provide people with housing.
We have a large number of properties across the country to maintain and client occupants to engage with. I head a team of 20 and also work with a large number of partner subcontractors to manage and coordinate all operations of housing regarding repairs and maintenance, quality, administration and finance issues.
I work closely with occupants and landlords to ensure the service and housing solution they are getting is to a suitable standard and troubleshoot any issues as quickly as possible. I also liaise very closely with our government agency partners which include Northern Ireland Housing Executive and the Health Trusts for the provision of accommodation for those experiencing a housing need.
What was your route into the company?
I Started in OnCall when I was in university and after university I progressed through the company in a range of roles, including Operations, Credit Control Officer, Office Manager and Head of Operations.
How long have you been involved in this type of work?
I joined Tarasis Enterprises, then called Homecare in 2014, but have been working in operations for many years.
Where did you work before this?
When I was younger, I worked in building sites and in a call centre, so was never afraid of hard work. I worked in Harvest in England for a few seasons while at university and a whole range of other jobs in between doing odds and ends.
What were your favourite subjects at school and why?
I always loved Maths, the logical path from A-B to solve problems and answers. I also loved Construction, as my Father worked in construction so was always around that growing up so had an active interest. Finally, Technology and Design was also a favourite. I was always hands on and liked to know how things worked.
Did you go on to university or further education and what did you study?
I went to Queens and studied Agricultural Technology.
Did you always have this career in mind?
No I didn't. I always knew I wanted to do something hands on and work somewhere with a good career path, but in terms of Housing Operations, I sort of fell into it as I just took every opportunity presented to me and made the most of it. I did always want something with 50% office, 50% out and about working and dealing with people and sorting issues.
What do you enjoy about it?
Working and dealing with people from all backgrounds across NI and further afield and working as part of a very strong and passionate team throughout Tarasis Enterprises.
There is a real family culture and we do make a real impact in people's lives everyday, so I get a lot of satisfaction from that. I love being able to deal with issues and take control of projects to solve problems and offer solutions.
This is a crisis driven sector and we encounter people often times at a really difficult point in their lives, so while we are often working in pressured environments, we are there to help people, improve their lives and
overall improve local communities so knowing what we do matters really motivates me.
Within Tarasis we are encouraged and given the freedom to use our own initiative to get the job done and make things happen and the senior management team have faith in us to live the company values every day.
What are the main skills required for it?
Communication is the biggest skill, a real must have. We need to share correct information to ensure we accurately understand people and situations. As we are often working in highly stressful situations for those involved, empathy and strong interpersonal skills is critical. You also need to be able to work well as part of a team, with a positive attitude.
Having initiative and an ability to solve problems, and we have an attitude that nothings that big that can't be solved. I also think being relaxed and calm with a level head to problem solve and find solutions to anything we come across in a day.
Networking Skills and the ability to work with and through others is critical, especially in our remote working world. Finally technical skills is really important in operations to understand the housing sector but a lot of that can be learned on the job, so the attitude is most important.
What would your advice be to anyone thinking of it as a career?
Show up early and work harder than those around you. Venture outside of your comfort zone and take opportunities that present themselves.
If you could do any job in the world, what would it be?
Just find a job you enjoy and find fulfilment in.
How do you relax when you're not working?
Family and friends and Craic agus Ceol.