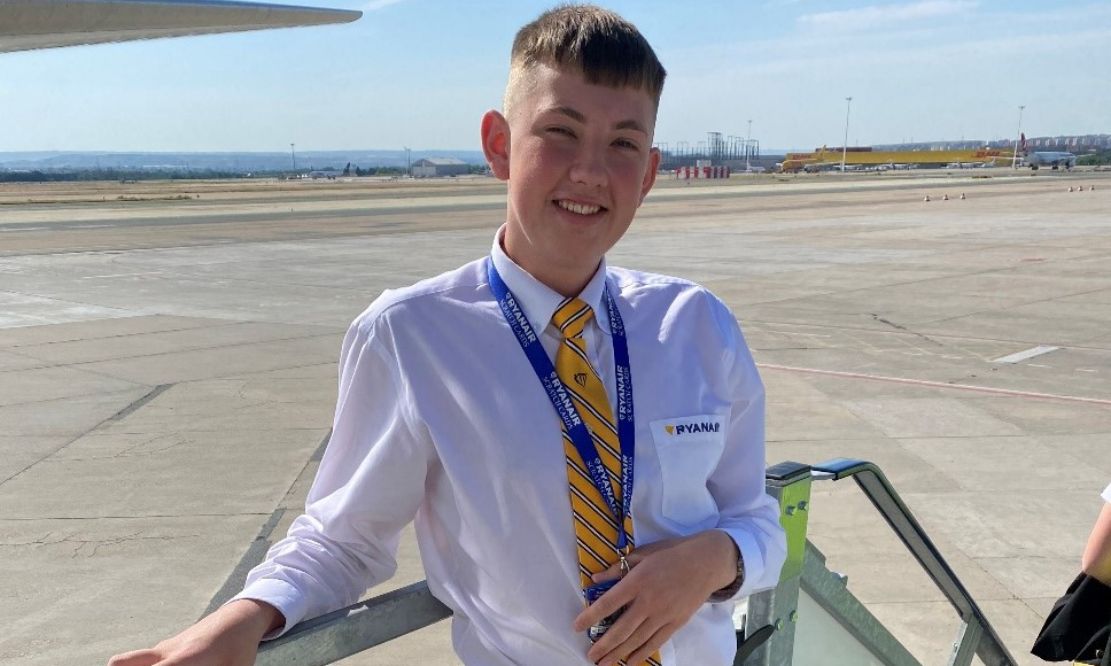 South West College alumni Matas Jautakis flying high in new cabin crew role
A former student of South West College has spoken of his journey from recruitment agency to Ryanair as he excels in new role as Cabin Crew for the airline.
Matas Jautakis – formerly based in Dungannon and now living in Dublin – studied Level 2 and Level 3 Business Administration at South West College's Dungannon campus, the institution he credits with providing him the inspiration to pursue his career.
Matas worked in the recruitment industry for a period of time for UK recruiting firm Staffline where he was able to put the skills he learned at SWC into practice.
Matas said: "My experience of the college has been amazing. The tutors helped me so much. I would one hundred percent recommend coming to South West College".
The experience of going on an Erasmus trip to Tenerife as part of his study at the college and the opportunity to be immersed in different cultures inspired him towards a career in being able to travel for work.
He has been quite literally flying in his career at present, working as a member of the cabin crew for Ryanair since March 2022.
Matas' duties include ensuring the safety of cabin crew, completing safety demonstrations, serving refreshments on the flight and ensuring the safety of everyone on the plane.
He has some advice for anyone wanting to enter a similar career: "You have to show authority as you're responsible for the safety of everyone on the plane. It also helps to be good with people!"
He spoke of the close bond with the tutors and their connections with industry to complement the skills he learned at SWC: "It means a lot that staff at the college still keep in touch and see my own career progress
since studying at the college.
"It helps to have contacts like the lecturers here who have real industry experience and contacts when it comes to help looking for a job or a reference in the future, so it's important to keep that rapport."
To find out more about studying Business Administration at SWC, visit www.swc.ac.uk and use our course search feature to find 'business administration' today!
You can also find South West College on Facebook to find out more about part time courses and invest in yourself for 2023 with up to 80% off selected courses.
To view job listings click here