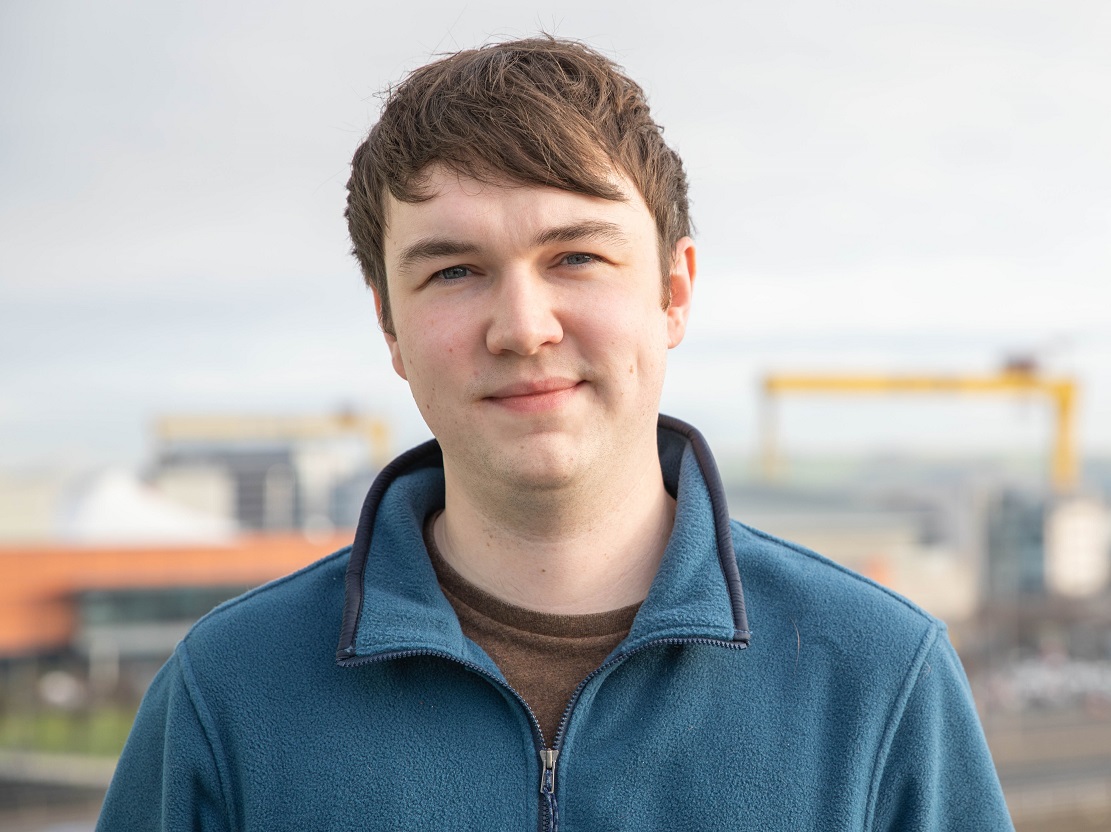 James climbing career ladder as he finds 'perfect route' through apprenticeship
A Cookstown man who was one of the first Allen and Overy apprentices in 2013 is still with the company today and has progressed to a permanent role as senior IT analyst.
James Reynolds was initially planning to go to university but decided in the end on the apprenticeship route – a choice he has never regretted.
This year, the global law firm is marking 10 years since it first introduced apprenticeships, and in that time it has welcomed 46 apprentices into its Belfast office.
With university costs on the rise, the programme is an attractive option for students wishing to gain first-hand experience and earn while they learn.
Said James: "I had originally planned to go to university. I wanted a career in IT and university was seen as the 'default' path to achieving this. However, the summer before I was due to go to university, I had second thoughts about whether it was the right choice for me. I decided to defer my place by a year to see if I could do things differently.
"Shortly afterwards, I came across the IT Apprenticeship scheme at A&O. It was a perfect fit for me as I find that I learn things much easier by doing them myself, rather than sitting in a classroom.
"I was able to jump right in and gain real work experience while learning at the same time. Within a couple of months, I went from attending school in Cookstown to working in an office in Belfast. It was a big change, but I loved it."
He added: "I gained valuable qualifications and was able to complete a number of IT certifications during my course.
"After I completed my apprenticeship I was offered a full time role at A&O as a junior analyst in the network team. I've been promoted twice since then and I'm now senior IT analyst.
"I've had the opportunity to travel and work from other A&O offices including London, New York and San Francisco. I enjoy travelling in my own time; having the chance to do so for work has given me some great experiences.
"Would I have ended up in the same position if I'd gone to university? Possibly, but I believe it would have taken me much longer, and I would still be paying off my student loans!
"University is not the only option. While it is great for some, it is also not for everyone. The apprenticeship route was perfect for me. I've never looked back and would happily recommend it to anyone."
Cathie McNeill, talent acquisition manager at A&O Belfast, said the appeal of apprenticeships is increasing: "Earning as you learn, building skills and gaining qualifications are just some of the benefits offered with apprenticeships. It's an opportunity to get valuable experience and with the increasing costs associated with attending university, we are seeing many more young people exploring alternative routes to employment.
"We work closely with our education providers – Belfast Met and Ulster University – to create bespoke training programmes for our apprenticeships. These match our business needs, and provide the exact training and skills development required.
"This provides us with a talent pipeline, which is particularly useful in filling roles in high growth areas such as information security. It is also a major benefit to our apprentices as it adds value and creates a clear career pathway for them.
"As a result, around 80 per cent of our apprentices stay with us after finishing their two-year course, choosing to progress to a higher-level apprenticeship, or taking up a permanent role within the firm.
"Apprenticeships enable us to continually invest in young talent, improve skill sets and ultimately increase employment opportunities. It's a win-win for everyone!"
Today, Allen & Overy offers 25 apprenticeships across IT, finance, marketing, legal tech, HR and business projects.
It opened its Belfast office in 2011 and is the second largest office in the A&O network, employing 700 people.
For more information on apprenticeships at A&O Belfast visit: https://www.allenovery.com/en-gb/global/careers/belfast
To view job listings click here