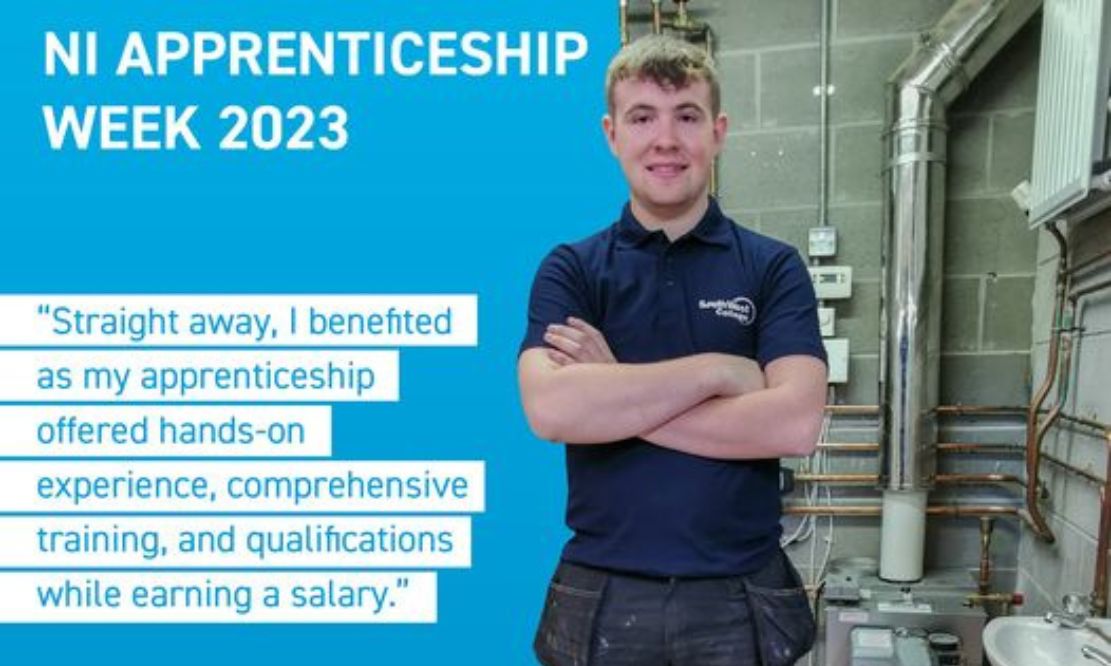 Aughacloy's Andrew McCann on how apprenticeship helped 'fast-track' his career
As part of NI Apprenticeship Week taking place across the province, Andrew Mc Cann, from Aughnacloy, a Plumbing and Heating apprentice at South West College, shares how the apprenticeship route is setting him on the pathway to success.
Led by the Department of the Economy, NI Apprenticeship Week is an annual week-long celebration, which runs from February 6 – 10, 2023 aims to raise the profile of apprenticeships across Northern Ireland by bringing together partners including local councils, employers, universities, further education colleges, and private training providers.
Andrew from Aughnacloy completed his GCSEs at Aughnacloy College before coming to South West College to study Level 2 in Plumbing and Heating. As an apprentice, Andrew studies at the SWC Omagh campus one day a week alongside employment four days a week with Anderson Mechanical Services, based in Loughgall, Armagh.
Andrew has been earning and learning throughout his apprenticeship and has developed a wide range of knowledge and skills that he now applies in the workplace.
Furthermore, he has gone on to achieve a number of top accolades earning the top spot in the NI SkillBuild qualifier as well as Apprentice of the Year at the prestigious Northern Ireland Plumbing and Heating Awards 2022.
Reflecting on his apprenticeship and how it has fast tracked his career, Andrew said:
"I was keen to get into the plumbing trade upon leaving school and enrolled at SWC on a Plumbing trade apprenticeship to gain industry experience and accreditation. Straight away, I benefited as my apprenticeship offered hands-on experience, comprehensive training, and qualifications while earning a salary.
"This blended approach was perfect, as the units I studied at College were directly linked to the roles I carried out in my employment, which improved my confidence and enhanced my skill set. Also, no two days were the same; you are learning something new daily, which is very fulfilling.
"The tutors are incredibly supportive, their knowledge of the industry is second to none, and they all have industry experience, so you are receiving the best education.
"They push you to achieve your best, which in turn enabled me to come first in the NI Skillbuild qualifier, as well as achieve Apprentice of the Year through the Plumbing and Heating Awards. This was a huge honour, and I would like to thank both the College and my employer for mentoring me throughout this journey.
"For anyone considering studying a trade apprenticeship at the College, it is an excellent place to learn, with fantastic facilities for everyone. Apprenticeships give you the skills and knowledge to succeed in your career and are an ideal pathway into many different careers.
"For me, it has opened so many doors and provided me with real industry experience as well as the classroom-taught theory behind it, and for students and employers, it is the perfect training system. I would encourage other young learners to consider an apprenticeship when exploring their options after their GCSEs."
Andrew's tutor, Marcy Doherty, said: "We are incredibly proud of Andrew and all he has achieved. His success highlights the invaluable benefits of apprenticeships.
"In Northern Ireland apprenticeships are seen as an important way to ensure that education is helping students train for the jobs that the economy needs and which will provide them with promising futures.
"Apprenticeships have been at the heart of industries such as plumbing for a long time and, we are proud to have a reputation that ensures businesses and employers are happy to work with us and our students."
As part of NI Apprenticeship Week 2023, the College will be hosting an 'All About Apprenticeships' event, on Thursday February 9 from 9 to 6pm.
This is an excellent opportunity for parents or guardians of young people in Year 12, 13 and 14 who are considering an apprenticeship programme, to talk directly to a member of the College team about what an apprenticeship involves, the benefits, career paths, progression, entry requirements and study format.