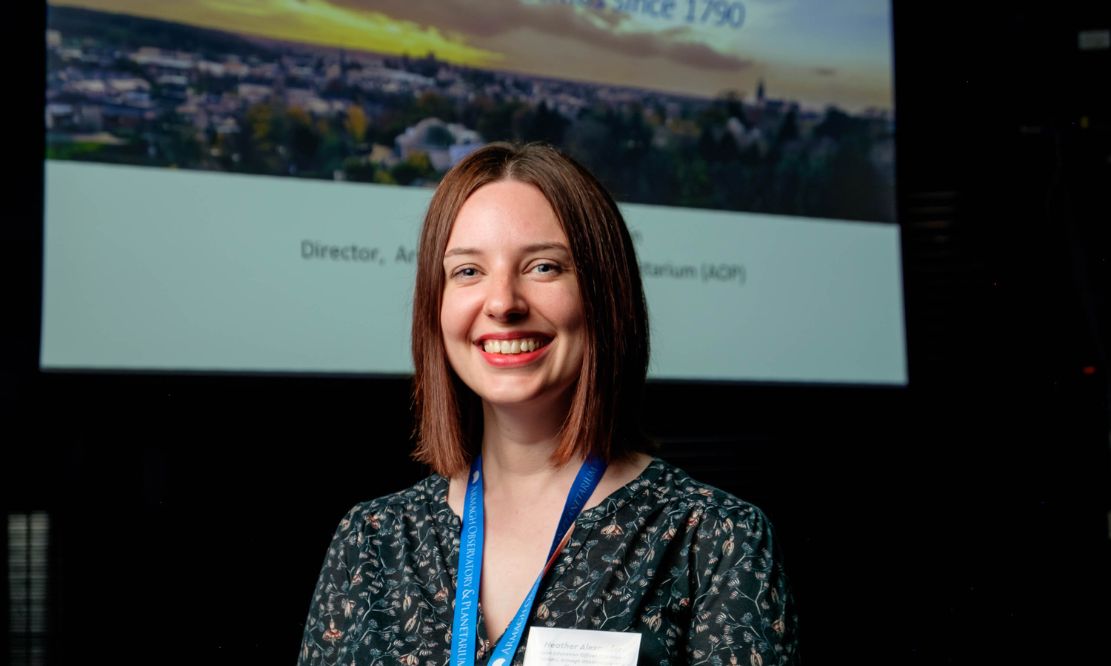 Heather Alexander enjoys the best of both worlds as Armagh Observatory and Planetarium's Senior Education Officer
Had you asked – a young, school-aged Heather Alexander might have told you that she wanted to be an astronomer when she grew up. However, a lack of faith in her own mathematical ability forced her to rethink her future career path and, instead, she turned her attention to teaching history.
As though the stars themselves had aligned, Heather now occupies the position of Senior Education Officer at Armagh Observatory and Planetarium. The role offers her the best of both worlds, fulfilling her love of astronomy and teaching within the beautiful historical setting that she has long admired.
What is your role in the company and what does a typical day entail?
My role at Armagh Observatory and Planetarium is Senior Education Officer (Creative and Tourism).
There really is no typical working day here, and that's what I love about the organisation. My duties range from guiding tour and school groups, to organising conferences with our Research team, managing social media, and organising events.
What was your route into the company?
I had been working for a tech company in Derry-Londonderry when I saw an Education Officer role advertised at Armagh Observatory and Planetarium. I had always admired the organisation's work as a leading global centre for astronomy research, and its dedication to inspiring Northern Ireland's next generation of STEM leaders.
How long have you been involved in this type of work?
I have been a part of the team here for almost eight years and have been in my current role since 2020.
Where did you work before this?
I am originally from Derry-Londonderry, and my career began with an internship with the Northern Ireland Museum Council to work in Derry City and Strabane District Council's museums. The role gave me valuable experience and I really enjoyed the education aspect.
I later worked for a tech company, hosting workshops in schools across Northern Ireland, prior to joining Armagh Observatory and Planetarium.
What were your favourite subjects at school and why?
My favourite subjects at school were science, history and music. I loved discovering how things worked and particularly liked astronomy and chemistry. I was naturally good at music, having played a brass instrument from a young age. History was my favourite though – the stories always fired my imagination.
Did you go on to university or further education and what did you study?
After school, I studied History at Ulster University. This developed my research skills and taught me to absorb and retain vast amounts of information, which has been useful when learning about Armagh Observatory's long and fascinating history. Opened in 1790 by Archbishop Robinson, it still conducts cutting-edge research to this day.
After graduating, I went on to complete a Masters degree in Cultural Heritage and Museum Studies.
Did you always have this career in mind?
Actually no. As a child, I wanted to be an astronomer but quickly discovered that my math skills were not the best. I then wanted to be a history teacher. I loved teaching people about different aspects of history and enjoyed making complicated topics easy to understand.
The job here at Armagh Observatory and Planetarium ticks all my boxes.
What do you enjoy about it?
No two days are the same! One day I could be addressing hundreds of school pupils and the next, I could be helping prepare for an event. The day after that, I might be dressing up as a vampire to take living history tours of the Observatory! I'm always kept on my toes.
What are the main skills required for it?
The ability to think creatively and outside of the box is critical. Attention to detail and excellent communication skills are also essential, as is the ability to form good working relationships internally and externally!
What would your advice be to anyone thinking of it as a career?
Communicating science is a fun job, and a great field to get into. You must have a passion for talking to people, and the ability to get excited about anything and everything.
I would recommend keeping up to date with the sciences. Even if you don't pursue it at university level, just keep yourself up to speed with what's going on in the STEM world.
Finally, don't be deterred if you don't have the greatest maths skills. Keep going, believe in yourself and you will find the right role.
If you could do any job in the world, what would it be?
My dream job is to be an author.
How do you relax when you're not working?
When not working I like to write! I also love to read, play video games and spend time with friends and family.