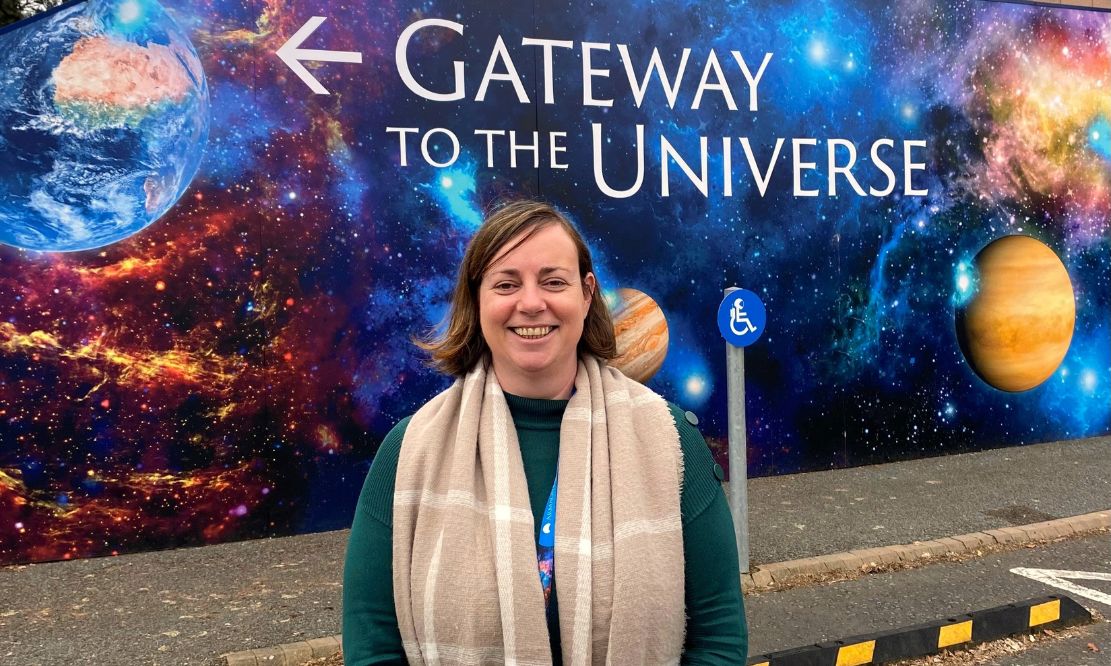 Lisa O'Neill has found her passion as Corporate Policy and HR Officer at Armagh Planetarium
Now a few years into her role, Lisa O'Neill has been the Corporate Policy and HR Officer at Armagh Planetarium since 2021. She brought a wealth of experience to her role having held a position overseeing HR and equality issues for NI Councils for fifteen years.
A natural problem solver, Lisa feels well suited to her chosen career path. She enjoys the challenges and ever-changing environment and treats everyone with respect, very much seeing her job as a means to hep improve the work lives of those she works with.
What is your role in the company and what does a typical day entail?
I am a Corporate Policy and HR Officer at Armagh Observatory and Planetarium, and no two days are the same. My work routine generally involves daily administration and the development or review of company policies. I also manage recruitment and deal with any staffing issues that arise.
I'm proud to spearhead Armagh Observatory and Planetarium's equality initiatives. We were delighted to receive Bronze Diversity Mark accreditation by Diversity Mark just last year for our efforts to embody diversity, equality and inclusion.
What was your route into the company?
I originally came on board in October 2019, on a short term contract, to assist with policy development and employee issues during a major transformation. I was appointed to my current role in September 2021.
How long have you been involved in this type of work?
My previous role was in an organisation which oversaw HR and equality issues for NI councils, so I had an appreciation and awareness of employment law and the role of corporate governance in the public sector.
All public sector organisations are bound by similar legislation and rules, so the learnings from that job were very much applicable to my current one.
Where did you work before this?
Previously, I worked as a Policy Officer for the Local Government Staff Commission for 15 years.
What were your favourite subjects at school and why?
I loved history, languages and geography.
Did you go on to university or further education and what did you study?
I attended Queen's University Belfast and completed a degree in Politics and European Studies, which included a semester spent at Leiden University in the Netherlands. Later, I gained a master's degree in Political Communication and Public Affairs at Ulster University.
Did you always have this career in mind?
No, I quite fancied a career in politics when I was younger but had no particular affinity, so didn't pursue it. I'm still very interested in politics but purely as a spectator!
What do you enjoy about it?
My job at Armagh Observatory and Planetarium is hugely varied and there is always something new to learn and do. The organisation carries out front-line research in several key areas of astrophysics, involving the Sun and our Solar System, the stars and our Galaxy, and other galaxies.
It also undertakes research on the history of observatories and planetariums , and it's exciting to help facilitate such important work.
I work with a diverse group of colleagues from many different countries and backgrounds and love problem-solving and making their working lives enjoyable.
What are the main skills required for it?
A good understanding of employment law and the ability to take initiative. I like to treat people fairly and with respect and also need to be able to have difficult conversations, if required. The role also demands an ability to be focused and organised.
What would your advice be to anyone thinking of it as a career?
This is a constantly-evolving and incredibly interesting environment. Our Planetarium is the public face of space and astronomy in Northern Ireland and our Observatory is the longest continuously operating astronomical research institute in the United Kingdom and Ireland.
If you want to work with talented people in a great organisation, then go for it! I didn't initially set out to work in HR and it has often pushed me beyond my comfort zone, but I find it challenging and rewarding.
If you could do any job in the world, what would it be?
I've never had a vocation per se but this has become a real passion for me. That said, I'm obsessed with property programs, so might have made a fine interior designer!
How do you relax when you're not working?
I have 3 children aged 22, 20 and 15, so they keep me busy and motivated. I also enjoy reading, doing pilates and gardening.
To be featured in our Job Profiles contact us on 02837 443 043 or marketing@armaghi.com