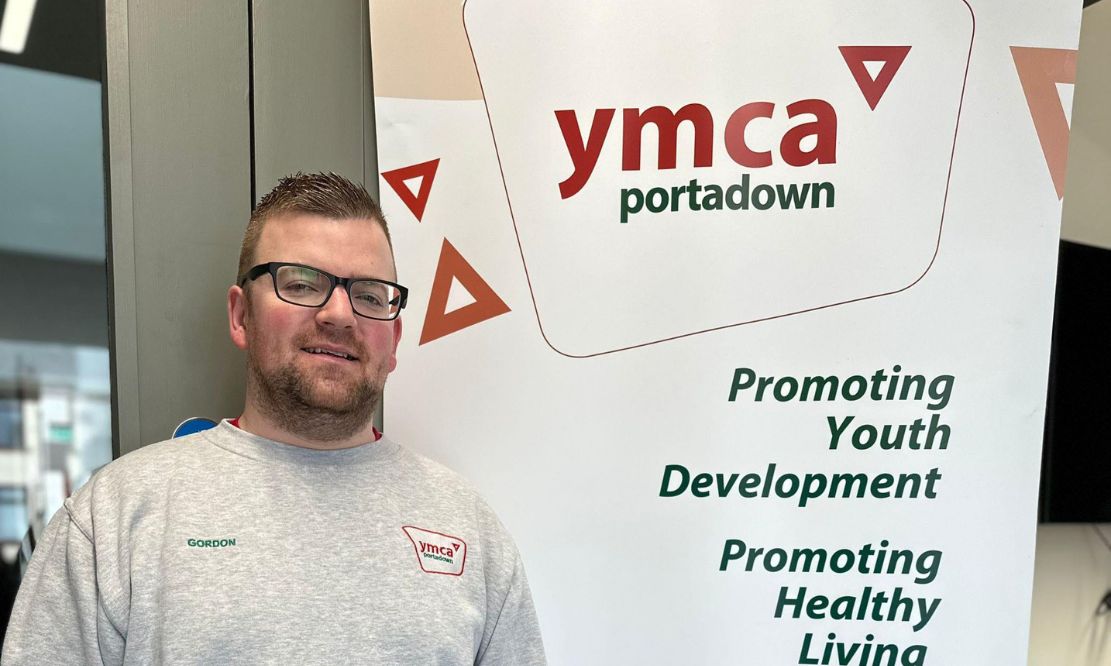 'No two days are the same' for General Secretary of Portadown YMCA Gordon Woolsey
Portadown man, Gordon Woolsey recently commenced his new role as General Secretary of Portadown YMCA at the start of March. For 15 years, Gordon has been involved in youth leadership via various Church and Community based organisations so the transition to work within the YMCA was a natural one.
Being able to make a difference in the lives of young people is a huge part of why Gordon went into youth work. In 2012, Gordon undertook a BA Honours Degree in Youth Work with The Open University which was around the same time that he secured his first paid youth work position with Oasis Youth, Portadown.
Now in 2023, Gordon enjoys the more relaxed pace of a part time role. However, even on his days off he finds his hands full, helping wife and business partner Rhiannon with her own baking-business venture.
What is your role in the company and what does a typical day entail?
General Secretary (CEO) of YMCA Portadown. No two days are the same and this is what I love!
I am fortunate to have a fantastic staff team who are involved in the face to face delivery to children and young people, therefore, in my management role, I am there to support the staff team while also ensuring we bring in the resources to fund our work. So, a day for me could entail going through lots of emails, applying for grants, report writing, budget preparation, programme planning, strategic planning, various meetings with staff and stakeholders, while also ensuring our fantastic youth centre is kept operational, not forgetting the interactions with those who use our centre, and I do also enjoy having the opportunity to deliver face to face sessions with children and young people when I get a chance!
What was your route into the company?
I only commenced my role on 1st March 2023, I am from Portadown and also passionate about the children and young people from Portadown and encouraging them to reach their potential in life.
I have worked closely with YMCA Portadown for a number of years now, in various partnerships with other youth organisations I have been involved in. When the opportunity arose to apply for the role of General Secretary (CEO) in a part time capacity.
I felt it the right time to leave full time employment in Belfast and to pursue a part time role in a youth organisation which I have always held in high esteem, and back in my hometown, working with children and young people whom I am very passionate about, but also this part time role, allows me to dedicate the remainder of my week to my wife's business, Rhiannon's Cakes and Bakes, following the recent expansion of our business.
How long have you been involved in this type of work?
I have been involved in youth leadership for just over 15 years in various church and community based youth organisations.
Where did you work before this?
I was working for Youth Link: NI, who are based in Belfast, I joined them in 2018, first in the role of Project Co-Ordinator of a 2.4 million euro Peace IV programme called 'Transform' then more recently in January 2022, I was in the role of Director of the organisation.
What were your favourite subjects in school and why?
Maths and Business Studies – I have always enjoyed working with numbers and in business studies, I had a keen interest from a very young age, having worked in my dad's shop (Scotch Street Filling Station), serving customers from the age of 11. These were 2 subjects where I got my best results also!
Did you go on to university or further education and what did you study?
Following my GCSE's, I studied a National Diploma in Business, which allowed me to explore my interest in Business further. However, my passion for youth work also meant that I studied a BA Honours Degree in Youth Work with The Open University from 2012-2018 which allowed me to progress further in my youth work career.
Did you always have this career in mind?
As mentioned above, I initially thought I was going to be involved in the family business, working in the filling station, however, my passion for youth work, fueled by my volunteering in various youth organisations, including my involvement in Scotch Street Youth and Community Centre, an organisation which I helped to establish back in 2008 and where I continue to be involved in to this day, in the role of Chairperson, meant that I wanted to get into a paid job within Youth Work.
So in 2012, I commenced my first paid role as a part time Youth Worker in Oasis Youth, Portadown. I spent nearly 7 fantastic years in Oasis before moving to Youth Link in 2018. Although I am passionate about youth work, my business head has never left, and I am putting it to good use now with my wife's business which we are currently expanding.
What do you enjoy about it?
I love the face to face interactions with children and young people, I enjoy knowing that the work I do may make even a small difference in someone's life. There is a need for youth work more than ever, and as a youth organisation, YMCA Portadown has the privilege to work with hundreds of children and young people on a weekly basis.
YMCA Portadown seeks to be a place of Welcome, Opportunity, Wellbeing and Peace and Justice and the vision of YMCA Ireland is 'A world where young people, their families and communities flourish in body, mind and spirit.
I also enjoy the management and leadership aspect of my work, although this can also present challenges, this is something I thoroughly enjoy, I like planning and organising and this is something I have to do on a daily basis!
What are the main skills required for it?
The main skills required for my role would be organisation, planning, resilience, relationship building, self awareness, strategic thinking and honesty but key throughout my journey to date would be effective communication! Communication is key in all aspects of my work!
What would your advice be to anyone thinking of it as a career?
I would say go for it, as you get such fulfilment, knowing that your job is making a difference, no matter how small it may be, in a child or young person's life, plus I always use the quote, 'Choose a job you love, and you will never have to work a day in your life.', I honestly love my job and no two days are the same, which makes it even more fantastic and you meet some amazing people in this line of work, all with a heart of serving children and young people!
How do you relax when you're not working?
When I am not working, you will find me at my caravan on the east coast, enjoying the coastal views! I love nothing more than relaxing at the seaside and taking in God's wonderful creation!
To be featured in our Job Profiles contact us on 02837 443 043 or marketing@armaghi.com