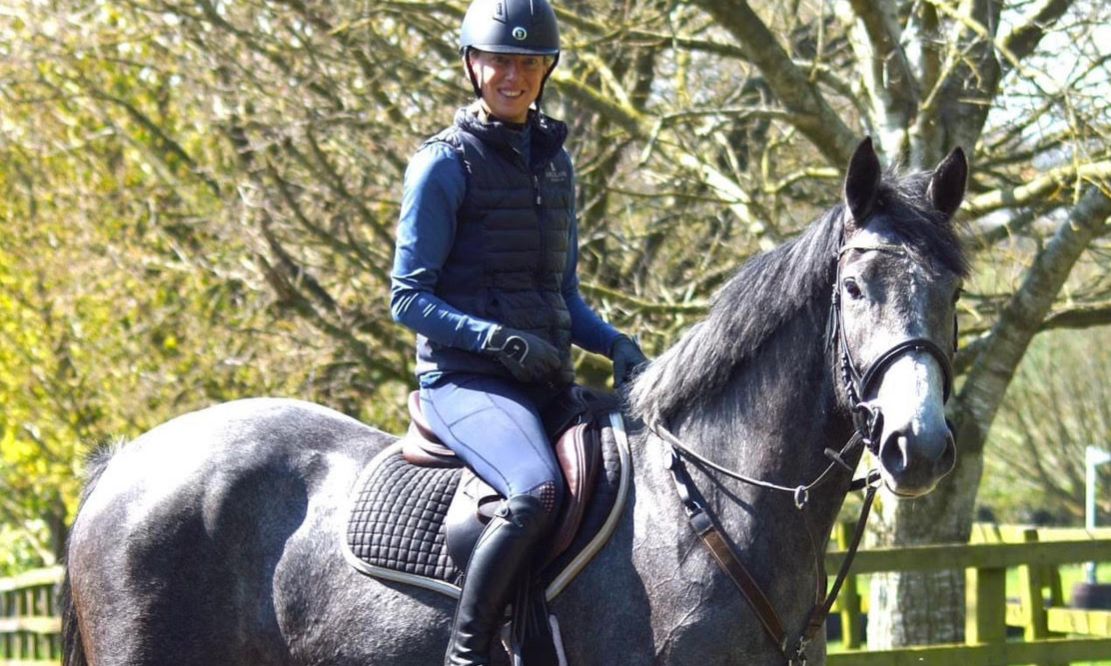 5 minutes with… equestrian Lorna Coffey of LC Sporthorses Armagh
Originally from Mullingar and now living in Armagh, Lorna Coffey is the very definition of an equestrian. Her hobby quickly became her passion and 7 years ago she took the leap from office work to professional horse trainer.
She has been fortunate enough in her career to have had the invaluable guidance of other industry experts; which helped to set her on the path to success for when she took up the reins of her own business. Lorna now passes on all she has learned to her clients and their steeds.
It's a physical job but she loves it! 35 horses take a great deal of looking after, but together with her trusty team, they get the work done and take it all in their stride.
Why did you choose working with horses as a career/business?
I've always loved horses, having jumped ponies nationally in my teens, and as they say you're most happy doing what you love so why not turn my hobby into my career! After few years in an office I took the leap and decided to work with horses full time about 7 years ago.
What are you most proud of in your career to date?
I've managed to build up a successful business in 3 years. I started LC Sporthorses on a small basis but when I came to Patrick McCann's fabulous base Brooklands Stables in Kilmore, Armagh, I was given the opportunity to grow the business massively due to his business guidance and the super facilities there.
What is your favourite thing about your job?
I love seeing the horses improve everyday. I often see horses that, may not at the time of purchase look great, but with time care and consistency they develop into superstars. Seeing that is definitely my favourite part of the job.
What has been the biggest challenge in your job?
The physical strain is the hardest. It's a lot of work daily, we have 35 horses currently but I'm very lucky my fiancé Norman is super. Along with the rest of the team at the yard so help is always at hand. No I in team!
What is the most helpful advice that you have been given?
If you have a bad day just go to bed and wake up the next day on a fresh slate, don't dwell on the negatives always look forward.
If you could choose anything else to do, what would it be?
Winning the lotto would be nice then I could just buy more horses but job wise I'm doing what I absolutely love so wouldn't change that!
What do you think your best quality is?
I think I'm a good people person and I'm honest. Honestly and care for both the horses and clients is so important to build a business, trust is key.
Name three things that you like doing outside of work.. 
Having a good night out! Going to see my mum and family in Mullingar where I'm originally from. Prob going to horse shows then.
Tell us about a secret skill that we don't know you have.
I'm actually a qualified social worker.
What is your most prized possession?
My engagement ring.
What is your favourite food?
Fillet steak.
What is your favourite book?
I'll not lie – I don't read anything except equestrian showjumping exercises to do with the horses haha.
What are you currently watching?
The Fall on Netflix.
If you were to watch a band/singer live, who would it be?
I love all sorts of music really but would love to see Carrie Underwood live. I've been told she's class!
Dead or alive, who would you most want to meet and why?
My idol is Ingrid Klimke a German event rider I was lucky enough to meet her in Badminton few years back. She's a fantastic horse woman!
To be featured in our Job Profiles contact us on 02837 443 043 or marketing@armaghi.com