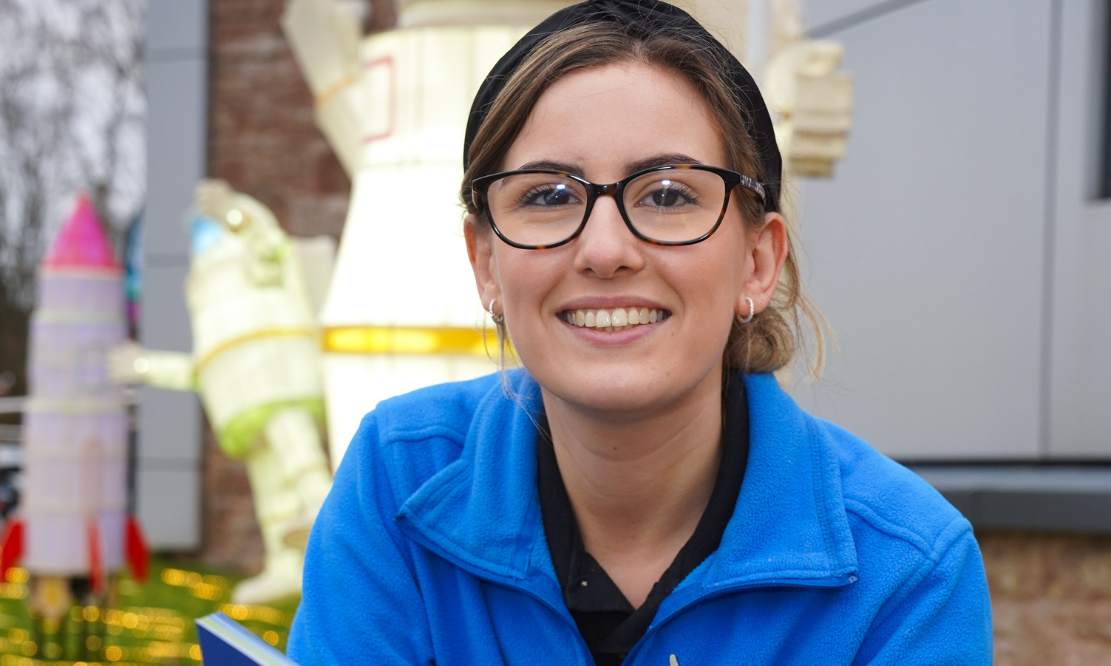 Armagh Planetarium's Ria Mee wouldn't change her job for the world!
Ria Mee hadn't always bargained on a career with an astronomical organisation, originally she had intended on pursing nursing. However, upon leaving university her plans soon changed and, knowing that she wanted to work within the Armagh area, she jumped at the chance to apply for a role with Armagh Observatory and Planetarium.
For Ria every day is different, she wholly enjoys the people-centered element of her role from visitor engagement to event planning. Her advice to anyone thinking of choosing a similar career path is to be passionate, enthusiastic, and have an interest in science, most importantly space.
Ria is now preparing to embark upon one of her biggest adventures yet as a new mum and can't wait to see what new challenges this year will bring!
What is your role in the company and what does a typical day entail?
I'm a Senior Education Officer, with a focus on events. Every day at Armagh Observatory and Planetarium is different, which I love! A typical day could see me engaging with visitors, presenting digital theatre shows, leading groups, or organising events. I also order stock for the gift shop which is fun!
 
What was your route into the company?
I applied for the role having moved on from a graduate job at Southern Regional College.
How long have you been involved in this type of work?
I've been part of Armagh Observatory and Planetarium's team since 2018 and have been in my current role as a Senior Education Officer since 2021.
Where did you work before this?
I graduated from university in 2014 and accepted a role as a Student Activities Officer. This position gave me the transferable skills that I needed to secure my current job, such as working with young people, working independently and leading workshops.
What were your favourite subjects at school and why?
Probably P.E. with science a close second! I loved getting out of the classroom, burning off energy and competing in games and matches. My favourite sports were netball and badminton.
Did you go on to university or further education and what did you study?
After school I studied Social Policy with Criminology at Ulster University. I loved the course and got to study some interesting areas, like Psychology.
Did you always have this career in mind?
Not at all, in fact I once wanted to be a nurse. After university, I hadn't yet decided on a career path but knew that I loved the Armagh area. When a position arose at Armagh Observatory and Planetarium, I just had to apply. It's fascinating to work for an organisation with such a rich scientific history, that delivers internationally-recognised research in astronomy and related sciences and vibrant educational and outreach programmes for all ages.
What do you enjoy about it?
No two days are the same, so it's never dull! I get to organise exciting events, like last year's popular Brickosaurs experience and the annual NI Science Festival. I also work with some amazing people and above all, find the work very rewarding!
What are the main skills required for it?
You need to have good communication skills, the ability to present to large groups of people and a curiosity about space. Being able to adapt to meet the needs of our visitors is also essential, as they span a wide range of age groups, from toddlers right up to senior citizens. The role also requires an ability to show initiative and work effectively with stakeholders at all levels.
What would your advice be to anyone thinking of it as a career?
Anyone wanting to embark on this career path needs to be passionate, enthusiastic, and have an interest in science, most importantly space! I think you also need to love working with the general public, and have good customer service and communication skills.
If you could do any job in the world, what would it be?
Probably this!
How do you relax when you're not working?
In a few months I'm going to be a first-time mum, so am currently busy preparing for the new arrival and am really looking forward to the year ahead and the changes it will bring.
In my free time, I love spending quality time with my family and friends. Oh and shopping!
To be featured in our Job Profiles contact us on 02837 443 043 or marketing@armaghi.com