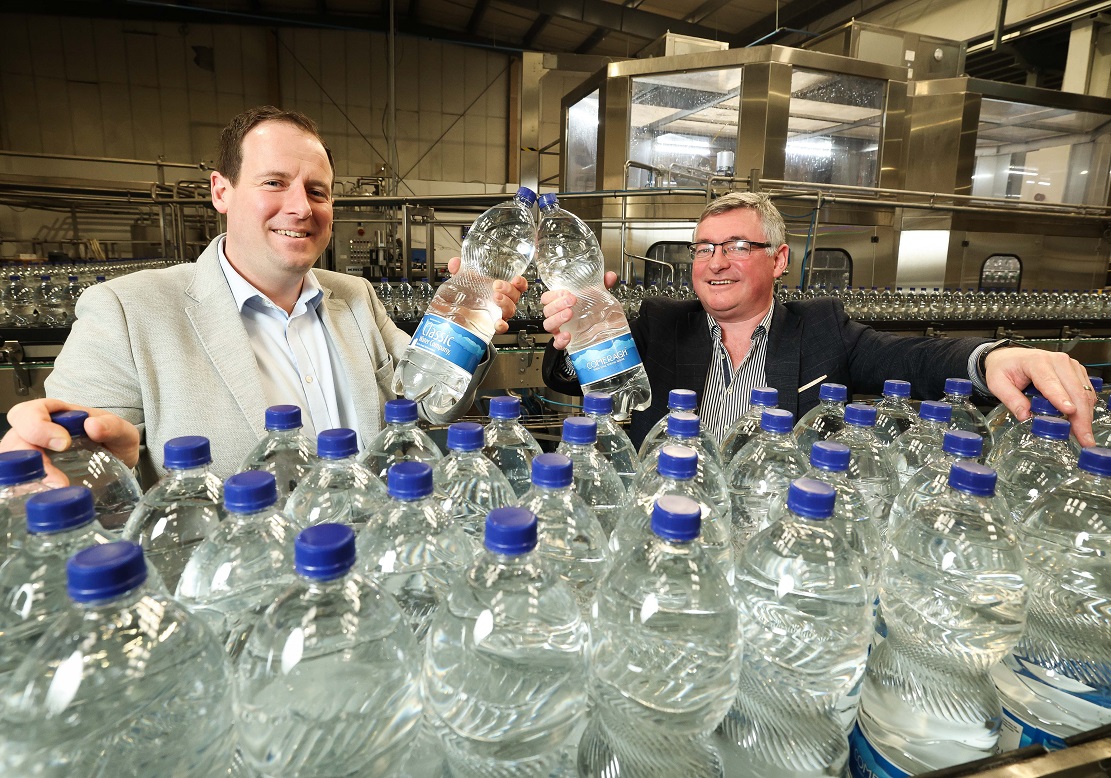 Classic Mineral Water secure deal to supply all ALDI stores in Ireland
A Lurgan based water bottling company has signed a £3.8 million deal with ALDI Ireland to supply all of their 155 Irish stores over the next year.
Classic Mineral Water, which employ 70 full-time staff, is Ireland's oldest water bottling company.
They produce a range of products for ALDI including still and sparkling water, sold under the Comeragh brand name.
The new contract will enable the Lurgan company to invest in upgrading their facilities, including the installation of a new pasteurisation system that will be operational from April 2023.
This latest technology will have the capability to produce isotonic products in both 500ml and 750ml bottle sizes, delivering a variety of flavours including orange, raspberry, cherry, tropical and tropical blue.
The investment will also allow Classic Mineral Water to upgrade their current syrup room facilities and move to using tethered caps immediately, which will help reduce the amount of plastic and cardboard used in the production process.
Founded in 1948 by James McKee, the company sold soft drinks directly to customers' homes, made from local town water.
In 1980, after the discovery of a unique mineral water source, the McKee family decided to diversify its product range and launched the production of bottled and flavoured water. This allowed the company to start supplying directly to shops and supermarkets.
Over the past 40 years, the company has developed a wide portfolio of products including still and sparkling water, flavoured waters, mixers, isotonic and glucose drinks.
In 2018, the McKee family decided to retire from the business and sold the company to Liam Duffy and Gerard Watters, two lifelong friends.
Since 2019, a total of £6million has been invested in installing three high speed bottling lines and ancillary services to meet customer demands.
This investment has seen the company's turnover rise from £2 million in 2018 to more than £15 million in 2023. The owners are confident that they will reach over £20 million in 2024.
John Curtin, ALDI group buying director, said Classic Mineral Water had supplied their Irish stores for three-and-a-half years and were delighted to extend the partnership for a further year.
"At ALDI, we are committed to working with Irish producers like Classic Mineral Water who continue to expand and grow their business to deliver customers with a wide range of high-quality products," he said.
Liam Duffy, CEO, Classic Mineral Water, added: "Despite all the challenges that we have faced as a business over the past few years, we have continued to work together to ensure that ALDI customers have access to high quality products at an affordable price.
"Pragmatic growth continues as Classic Mineral Water invests in production capabilities to allow the business to continue to grow and adapt over the coming years."
To view more job listings click here
Why not sign up to job alerts direct to your inbox here