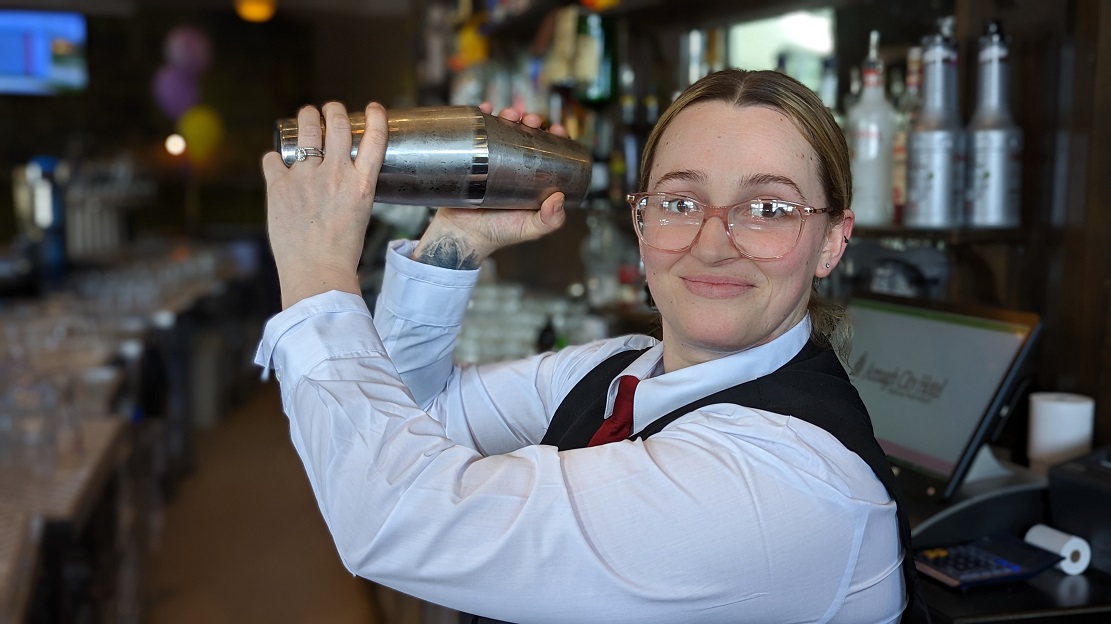 'Bubbly and caring' Niamh Mariano is made for a career in hospitality
Niamh Mariano is 9 years in hospitality and enjoys every second. The social element of her role plays well to her 'bubbly and caring' personality and provides her with great job satisfaction as she sees the difference she makes to her customers' experiences day in and out.
She credits her current place of employment, Armagh City Hotel, with recognising her commitment by investing in her future and education with enrolment on an NVQ in Hospitality – something she is hugely proud of.
Niamh admits, between bar set up, preparing for opening then tending to customers, taking orders, answering queries, settling bill and everything in between, it can be a challenging role, but she strongly believes the rewards outweigh the challenges and thrives on the hustle and bustle of life in hospitality.
Why did you choose being a Bar Person/Waitress as a career/business?
I love hospitality, it is so social, I chose this career because I love customer service, making people happy and ensuring they enjoy their visit and experience.
What is your role in the company and what does a typical day entail?
I work in the bar as bar and food service staff. A typical day would start with bar set up, preparing for opening then tending to customers – taking orders, answering queries, settling
bills and ensuring the customer has a fantastic experience.
What was your route into the company?
After leaving school I began working in hospitality. I have worked in hospitality over 9 years now and have been with Armagh City Hotel for 4 years.
What are you most proud of in your career to date?
I am proud of how far I have come and things I have learnt along the way. I am so proud that I have been allowed the opportunity to complete my NVQ in hospitality with the hotel and People's first, the hotel have invested in me and I see that as a testament to my hard work and dedication to my role.
What is your favourite thing about your job?
The people, making a change to someone's night out or holiday – putting smiles on their faces.
What has been the biggest challenge in your job?
It is a challenging job altogether. There are so many different challenges and aspects to the role that people don't understand, but nonetheless, the rewards outweigh the challenges.
Did you go on to university or further education and what did you study?
I did not, but I have been given the opportunity to complete my NVQ in hospitality with Armagh City Hotel and Peoples 1st.
What is the most helpful advice that you have been given?
The most helpful advice I have been given working in hospitality, is everyone starts somewhere. We all make mistakes so when you are dealing with customers, even just taking an order – always repeat the order. You can't go wrong.
What are the main skills required for your job?
Customer service skills, teamwork, problem solving, communication skills, patience and confidence.
What do you think your best quality is?
My personality. I get complimented a lot on my personality and that it is made for hospitality! I am a very bubbly and caring person.
Name three things that you like doing outside of work…
Spending time with my family, learning new things and listening to podcasts.
What is your most prized possession?
My mum's vase. She left it with family and it has been with me for 15 years.
What is your favourite food?
Portuguese food.
What is your favourite book?
Anything by Jacqueline Wilson.
Dead or alive, who would you most want to meet and why?
Elvis, Freddy Mercury or Bob Marley – musical icons, I love their music.
To be featured in our Job Profiles contact us on 02837 443 043 or marketing@armaghi.com