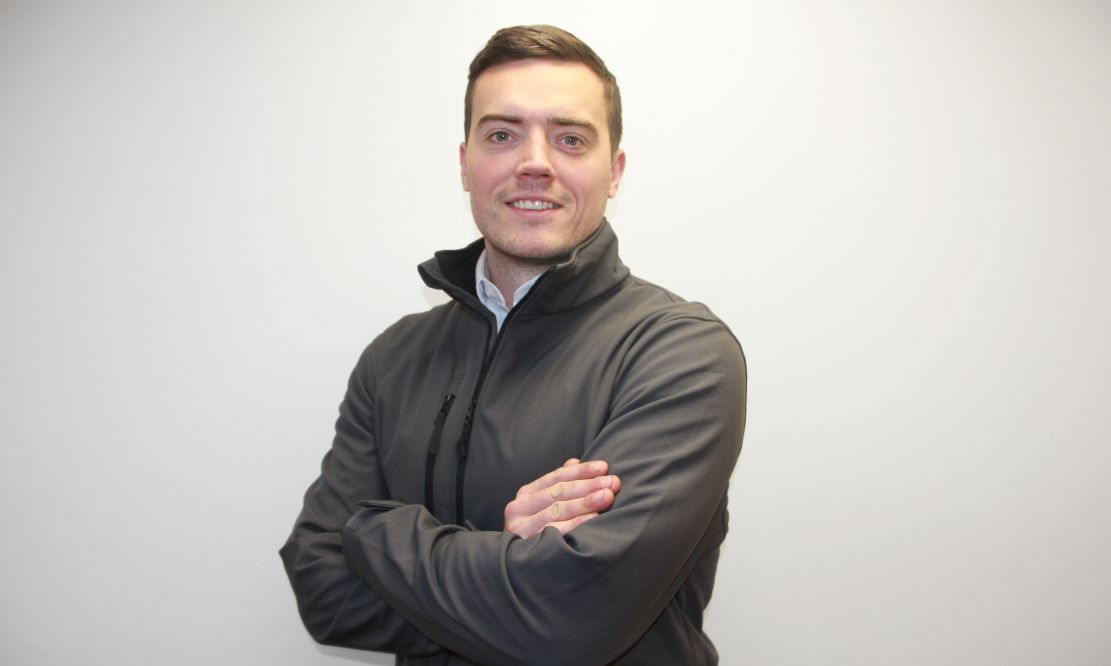 Entrepreneurialism is in Versaffix director Gerard Doherty's DNA
Growing up in an entrepreneurial household was undoubtedly a influential factor when it came to Gerard Doherty forging his own career path. His father and siblings have all established strong footholds in their respective industries leading Gerard to take the business reigns himself and start his own company, Versaffix.
Identifying a gap in the market, Gerard started the tilt rotator manufacturing company, which is now the first of its kind in Ireland.
Efficiency, theory and practicality have always been important factors to Gerard and since his school years he has absorbed as much knowledge and experience as possible to keep up to date with constantly changing new innovations and technology.
What is your role in the company and what does a typical day entail?
My role is Managing Director at Versaffix. We're a young company and we've developed tilt rotators for excavators. We're the first company in Northern Ireland to be manufacturing these parts – they are fixed on an excavator and rotate a bucket 360 degrees and two tilts.
No two days are the same for me, given that we are still in the early stages of business… but the bulk of my day revolves around business strategy, design and manufacturing.
What was your route into the company?
I worked in my dad's business growing up and throughout my early career – he was a building contractor and is still involved in construction and engineering. My brothers Joseph, Aidan and Colin set up Re-Gen Waste 19 years ago and I remember the construction of the recycling facility in Carnbane Industrial Estate in Newry.
My sister Celine Grant is Re-Gen's Commercial Director. John, my eldest brother, joined Re-Gen a few years ago and looks after tenders and legal issues. Another brother, Brendan, owns Connex Offsite in Bessbrook. I suppose you could say it's a family affair.
I've always had the desire to start something of my own and I identified a gap in the market for tilt rotators in the UK and Ireland. The technology was rolled out in Scandinavian countries and has been widely successful there. I felt there was an opportunity for development in the UK and Ireland markets and so the roots of Versaffix were established. I wanted to become the first Irish tilt rotator manufacturer, employed highly skilled engineers and with a strong focus on after sales and customer service.
How long have you been involved in this type of work?
I've been involved in mechanical engineering for eight years. I studied mechanical engineering at Ulster University and completed my placement at Re-Gen's in the engineering department where I gained invaluable engineering experience from senior engineers, especially Louth McMahon. After my degree I worked for Eagle Over Seas (EOS) in America for almost a year. Fitting out Facebook offices involved travelling extensively across the states, teamwork, planning and working to deadlines.
Where did you work before this?
I worked in Combilift in Monaghan for three years before starting the research and development for Versaffix. Focused on the design side of things, I had excellent opportunities in a range of programmes. It was a very 'hands on' environment and gave me great insights into the industry and the mechanics of machinery. On the sales front, I was involved in selling machinery to Warrenpoint Port.
What were your favourite subjects at school and why?
Maths and Science were my favourites, which are stereotypical of an engineer. I didn't particularly like English.
Did you go on to university or further education and what did you study?
Yes, I graduated from Ulster University in 2015 with a BEng degree in Mechanical Engineering, this course alongside my placement year helped establish my knowledge and passion for all things design and manufacture.
Did you always have this career in mind?
I have always been quite a logical thinker and enjoying subjects typically suited to the engineering field, like Maths, Physics and Chemistry, meant it was likely to be one of the most suitable fields for me. I enjoy design and seeing new technologies and innovation come to life.
Growing up watching my dad and older brothers in construction was really beneficial – there was always a practical and theoretical element to everything they did.
With time, money and safety at the forefront of many decisions, my interest was ignited in new technologies that could simplify tasks and increase efficiency on site. One of the many benefits of a tilt rotator is its efficiency.
What do you enjoy about it?
I love that no two days are the same, especially in a new company. I find myself wearing various different hats which pushes me out of my comfort zone but helps me to grow professionally.
At the moment I am really enjoying seeing all of the work behind the scenes coming to life – to see our product being assembled gives me great satisfaction in the job and pride in our design and manufacturing team.
What are the main skills required for it?
An interest and ability for design are necessary for the engineering side of the business. Thinking on your feet and constantly aiming to drive change and increase efficiencies in the industry and for our products/manufacture are also part of my DNA.
For the sales side of the team, we are looking for people with a passion for communication – who have their ear to the ground of the industry and are open to training and career progression up the company- we have lots of opportunities for the right person!!
What would your advice be to anyone thinking of it as a career?
Listen and absorb as much knowledge and experience as possible – this is an industry which is constantly changing with new innovations and tech – it is important to keep in the loop to push on in your career.
If you could do any job in the world, what would it be?
I would be an F1 driver as it involves speed, precision, mental alertness and international travel. I love the Combidrift films.
How do you relax when you're not working?
I got married last September so my wife, Lauren, and we had our honeymoon in Australia in March. I enjoy travelling, football, and regular Marvel movie marathons. Playing golf is also great – but I've less time for it now than I had a few years ago!
To be featured in our Job Profiles contact us on 02837 443 043 or marketing@armaghi.com