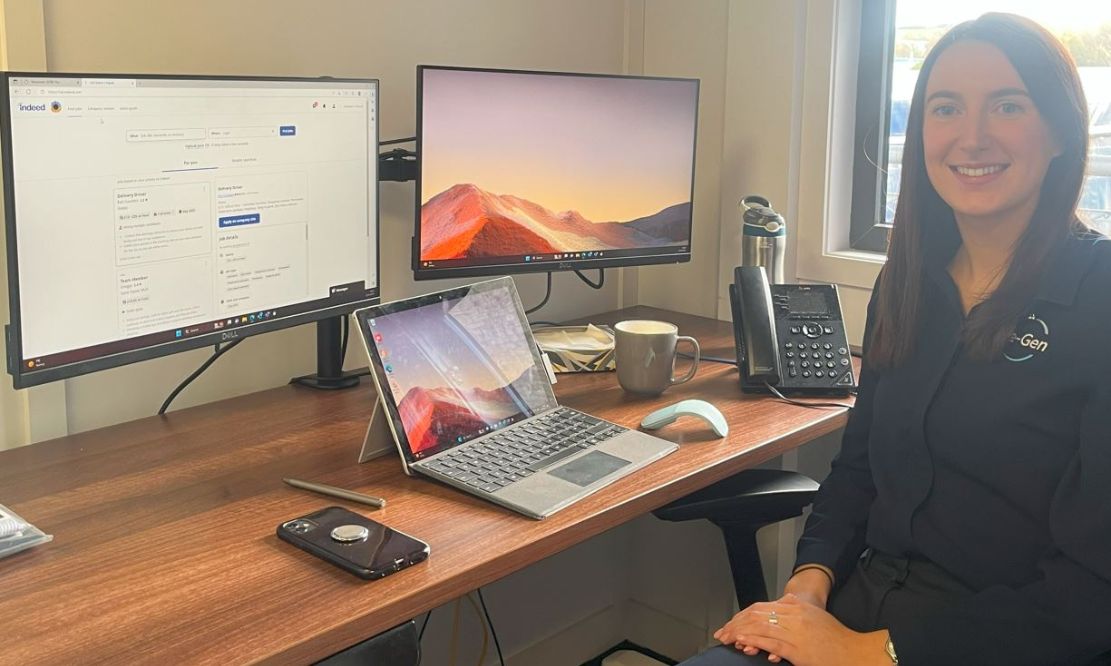 Eimear Savage believes role in Human Resources is her 'perfect fit'
Despite being a fairly recent recruit for the Re-Gen Group, having just joined the company in March 2023, Eimear Savage has settled perfectly into her role in the Human Resources department.
Since age 17, Eimear has had her sights firmly set on a career in Human Resources. With a total of five years spent at university, she was well prepared to put her learning into practise. However, she advises anyone thinking of Human Resources as a career to not be disillusioned if university isn't for you. There are plenty of alternative routes!
When she's not at work, the intrepid go-getter enjoys working her way through her bucket list – between spending a week exploring the New York cityscape and dreaming of a life in sunny Australia.
What is your role in the company and what does a typical day entail?
I joined the Re-Gen Waste team as a Human Resources Assistant in March this year to support the existing team with the HR function for the Re-Gen Group (Re-Gen Waste, Re-Gen Robotics, Connex Offsite and Versaffix).
Each day for me is different. For example today, I arrived at the office for 8am and worked through my email inbox. At 8.30am, Garreth McConville (HR Manager), Piotr Chmielowiec (HR Officer) and I had a meeting to catch up on developments and our plans for other meetings. Then we had an interview at 10am for one of the current recruitment opportunities on offer.
Later on the afternoon my colleague, Piotr, and I attended an Apprenticeship Fair in Newry High School to chat to students about all the different apprenticeships Re-Gen has to offer. I then returned to the office and went through my emails before preparing for a debriefing with Garreth and Piotr on all things recruitment.
What was your route into the company?
I completed my undergraduate degree in 2019, before starting my Masters in Human Resource Management in 2019. Throughout my studies, I worked part-time. Once I completed the dreaded 40,000-word dissertation that went alongside my Masters it was time to look for my first full-time position. I worked both locally and in Belfast before deciding that a role closer to home, in a dynamic family business with lots of opportunities, would be the perfect fit for me, which is how I took up my current role with Re-Gen.
How long have you been involved in this type of work?
I've known since I was 17 that I wanted to pursue a career in HR. I remember reading about it and deciding that is what I want to do – thankfully after studying for 5 years and working I still enjoy it every day! I enjoy recruitment, organising induction and onboarding, planning training and development programmes, and employee engagement through the Champions' Committee.
Where did you work before this?
I worked in a local consultancy learning all about how an actual HR team works and the different tasks involved. From there I decided to make the big journey to Belfast and worked in a corporate law firm. This really opened my eyes to the corporate world and everything it entails.
What were your favourite subjects at school and why?
My favourite subject in school was English Literature: I always liked how something could be interpreted in a hundred different ways and there wasn't always a black-and-white answer. My least favourite subjects were Biology, Chemistry and Physics.
Did you go on to university or further education and what did you study?
I went to university for over five years (I definitely did my time!) and completed my degree in Advertising and Human Resource Management at Ulster University in 2019. I decided to just keep going and did my Master's in Human Resource Management at Queen's University in one year.
Did you always have this career in mind?
Yes, I've always had a career in Human Resources in mind. Although I did also learn about advertising at university I quickly realised I am not the most creative person. The more I learnt about HR the more I enjoyed it. Advertising has become more important as promoting vacant posts and apprenticeships is very competitive at this time.
What do you enjoy about it?
I really like working with different people every day and, knowing no two days will ever be the same, I'm able to have the flexibility to put time into different projects I feel passionate about. I enjoy working with all different levels within a business and seeing how the culture really does filter from the top down. In terms of job satisfaction, there is nothing better than finishing the recruitment process when you have helped someone find a new, exciting role.
All staff are encouraged to identify training opportunities, grow in their roles, and look at creative and innovative solutions. Re-Gen has a great culture in recognising the contribution staff make to the company. I particularly enjoyed the visit by an ice cream van a few weeks ago!
What are the main skills required for it?
Anyone working in HR needs to have empathy, be a great communicator, have good organisational skills and be able to think on their feet. As the role changes from one day to the next you don't ever know what you might face. Often people might come to me for a chat or guidance, or managers may ask for advice on something. Being a good listener is probably the most important skill needed at any level in the profession.
What would your advice be to anyone thinking of it as a career?
If someone is thinking of a career in HR I would definitely tell them to reach out to someone who works in a HR department to get a sense of what the role entails. I think getting work experience will also help someone even if it is not specifically in an HR team but in an office environment to ensure you would be happy working in an office-based role. I would also recommend looking into different apprenticeship options… university is definitely not for everyone and there are amazing opportunities for apprentices in industry, retail, and professional services, like accounting.
If you could do any job in the world, what would it be?
I think I would always have chosen Human Resources but the location changes on a daily basis. When the weather is nice I think there is nothing better than working close to home. However, when the weather isn't as good I could see myself working and living in Australia, where the relaxed lifestyle and work-life balance have a certain appeal.
How do you relax when you're not working?
I really love to travel and am slowly but surely making my way through my bucket list. I've just spent a week exploring New York. I also love a good walk (weather permitting) and spending time with my family and friends.
To be featured in our Job Profiles contact us on 02837 443 043 or marketing@armaghi.com