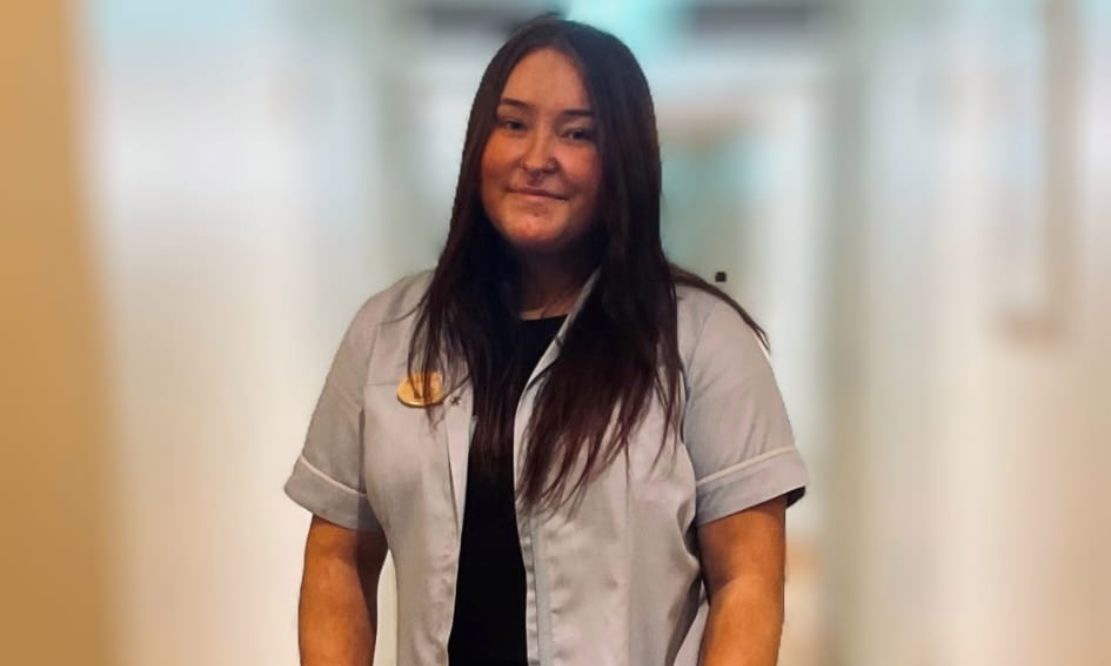 Armagh City Hotel's Ellie McManus says "The job chose me, but I love it!"
Ellie McManus started working at the Armagh City Hotel at the age of sixteen, she just could not wait to get into the world of work! She started out by working casual hours that fit around her studies and has now completed an NVQ in Hospitality to help further her career within the industry.
She takes pride in her role and has become an asset to the hotel, working across several departments during the challenging periods coming out of lockdown and covid recovery, when the hospitality section was hit hardest with elevated levels of business and stay vacations. With a dedicated and tenacious spirit, Ellie has covered breakfast service, bar service, deli service and housekeeping, to name just a few.
Ellie admits it can be a demanding role and a very physical one, as it comes with time deadlines with guests checking in, but with the wonderful team of work collages she thrives in the challenging role and sets out a high standard of work.
What is your role within the company and what does a typical day entail?
My role is housekeeper and on a typical day I would be cleaning bedrooms for guests to arrival.
After all the rooms are completed, I would be checking over all public areas and setting the trollies for the next day. And any other duties that the Housekeeping Manager may want me to complete.
Why did you choose to become a housekeeper within the hotel?
I did not choose to become a housekeeper, it chose me, but I love the job.
What are you most proud of in your career to date?
I would have to say the NVQ in hospitality, with this I am hoping to move up the ladder within the Armagh City hotel to supervisor and hopefully manager one day.
What is your favorite thing about the job?
The hours and the staff at the hotel. We are all like a big family.
What has been the biggest challenge in your job?
Working under pressure to turn a full house of rooms around for a full check in, while not rushing the rooms and keep standards high.
Did you go onto university or future education?
I did not go onto future education after my A levels. I did plan to but enjoyed working at the Armagh City Hotel so much I stayed.
What is the most helpful advice you have been given?
From my mother, "Don't spend all your wages in one day."
What are the main skills required for your role?
Communication, teamwork and time management.
What do you think your best quality is?
I would say my eyes, they change color all the time.
Name three things that you like doing outside of work?
Socializing with my friends, spending time with my two younger brothers and watching Netflix.
What is your favorite food?
Chinese must be classic chicken curry all the way.
What is your most prized procession?
Oh, my phone, my whole life is on it.
What is your favorite book?
Funny, I am not a reader at all, could not tell you the last time I read a book it is just not me.
What is your favorite movie?
It must be any of the marvel movies. I love them all; it is too hard to choose one.