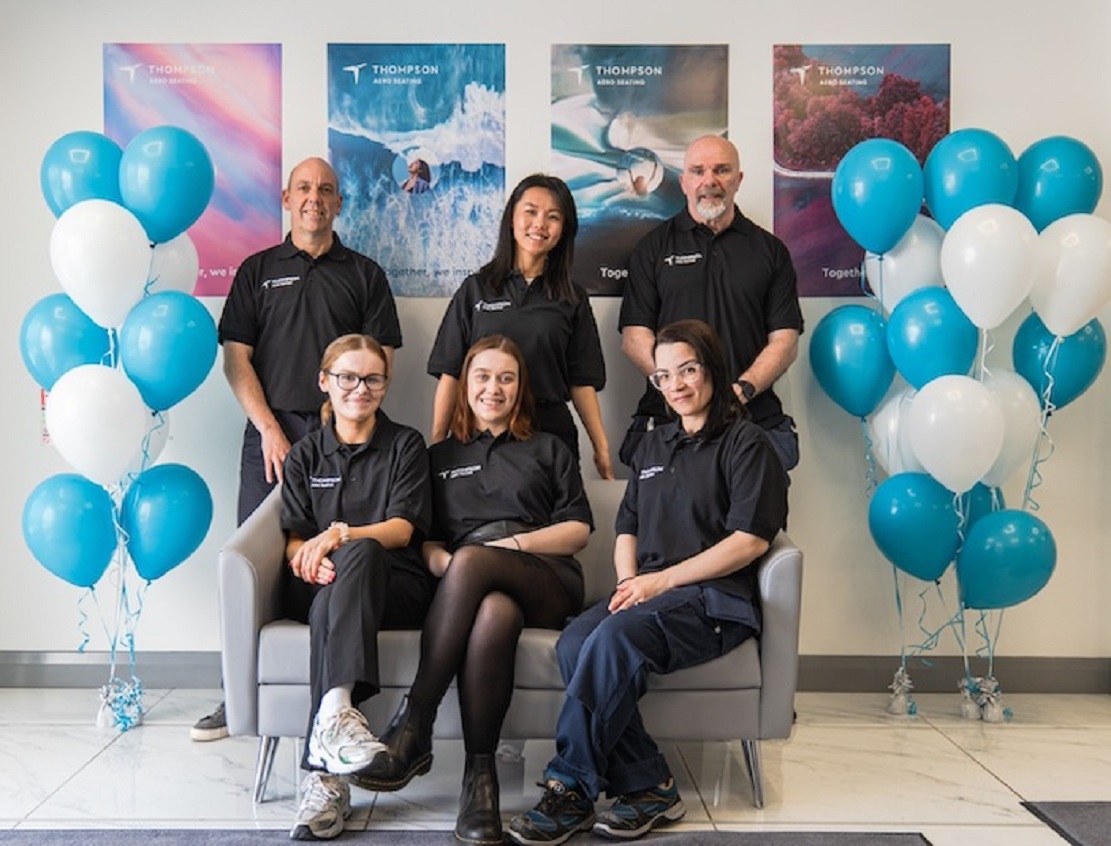 Rebrand marks new horizon for Co. Armagh aviation seating manufacturer
The major Co Armagh manufacturer has announced a rebrand which will reflect its evolving ethos and vision complete with a new logo, new website, and a new strapline, all aligned to the strategic direction of the company.
Having previously worked in BE Aerospace, Thompson Aero Seating based in Portadown was founded in 1997 by James Thompson and since then the company has grown to become one of Northern Ireland's most successful manufacturers.
The company's products are used by some of the world's leading airlines, including Delta Air Lines, Qantas, and Air France.
One of the key factors behind the success is its focus on innovation and design. Thompson Aero Seating is committed to creating seats that offer both comfort and functionality, while also being visually appealing.
The company prides itself on its ability to work closely with customers to create bespoke seating solutions that meet their specific needs.
In November 2022 it was announced that Thompson Aero Seating were to start building a 'world class' dynamic test facility at Banbridge pumping a £7.5m investment into the project.
Building works have already begun at the Brownfield site in Banbridge, County Down, and are planned to complete in Summer 2023, with the test equipment to then be installed to support commencement of testing from Autumn 2023.
Speaking of the company rebrand Andy Morris, recently appointed to a new role as Chief Commercial Officer at Thompson Aero Seating (previously vice president of commercial), says "We have worked hard to channel our long-established ethics and integrity with a new level of operational excellence and innovation.
"The new brand marks a new horizon. But we have not forgotten our roots. Thompson Aero Seating has always been about people – those who work for Thompson and those with whom we work.
"We look forward to continuing true partnerships with our airline customers, new and long-standing, to design and deliver inspirational products and services of the highest quality."
Related: Thompson Aero Seating has announced plans for the creation of a world-class Dynamic Test Facility  in Northern Ireland at a cost of £7.5 million.
Another point which sets the manufacturer apart is its commitment to sustainability. The company uses materials that are both environmentally friendly and durable, which helps to reduce waste and minimize its impact on the environment.
Thompson Aero Seating is a company that has established itself as a manufacturer leader in the aviation industry. Its commitment to innovation, sustainability, and customer service has helped it to build a reputation as a trustworthy and reliable supplier of premium airline seating solutions.
With its focus on quality and design, Thompson Aero Seating is sure to continue to be a driving force in the industry for many years to come.
---
To view job listings click here