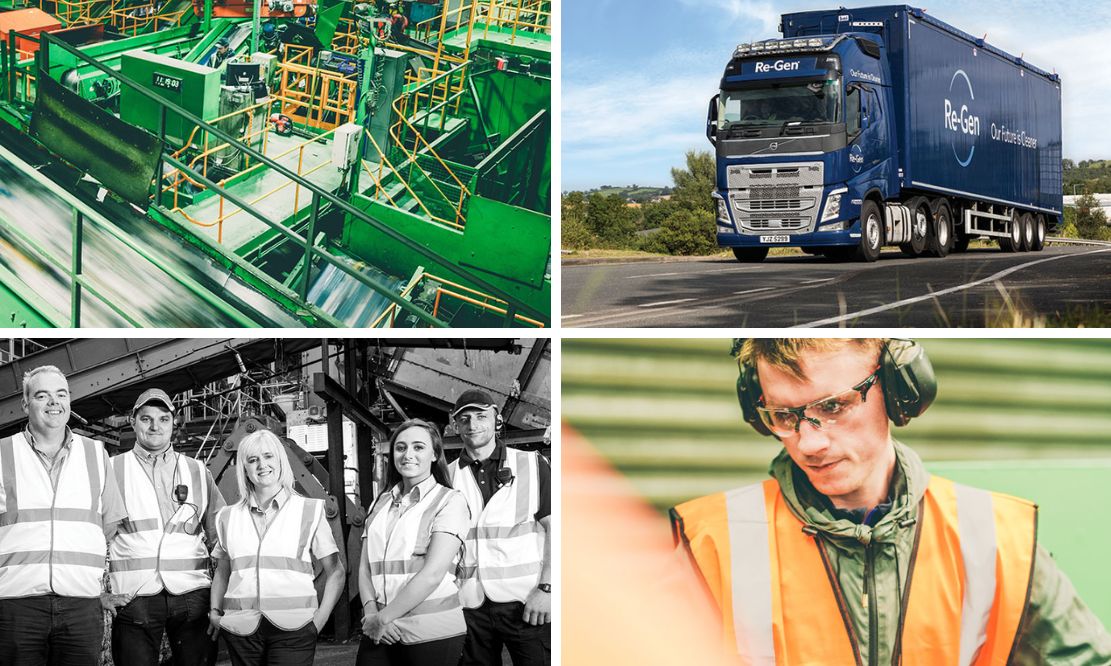 Opportunities open with dynamic family-owned Re-Gen Waste
Entrepreneur NI recently spoke with Managing Director of Re-Gen Waste, Joseph Doherty, who – despite the naysayers – co-founded the multi-million pound waste recycling company in 2004.
Now almost 20 years in business, Joseph's story is a comprehensive one. One thing which he does champion is the significance of having a 'very good team of very good people'.
Joseph said: "A lot of our senior people here have been with us 15+ years so they know what we're thinking before we think it. That's built over time, you can't just make that happen over a year, it takes years – that takes you going through bad times and seeing how you handle it."
At Re-Gen Waste, the vision since inception has been the continual improvement in recycling across the UK and Ireland. Their objective is to bring customers closer to their objective of zero landfill from domestic mixed dry recycling.
To achieve this aim, Re-Gen Waste employ the best people across a variety of areas within the company.
Re-Gen Waste are defined by their people, and so, in 2020 The Re-Gen Academy training programme was launched to support new and current employees in their roles, to equip them with leadership skills and provide opportunities for learning and professional development.
You too, can be part of this dynamic family-owned and managed waste recycling company. Re-Gen Waste are delighted to be recruiting and are offering the following exciting opportunities:
The overall purpose of the Health and Safety Officer role is to assist to maintain standards by carrying out site inspections, H&S audits and to assist to maintain compliance with existing Integrated management systems, to ensure compliance with license requirements, site working plan, keeping up to date with existing and new legislation.
The candidate will also carry out monitoring activities, investigate incidents and report to the department head.  Additional aspects of the role are to develop the candidates' own abilities and knowledge with a view to assist the department goals in ensuring best practice is implemented across Re-Gen group sites.
Click here for more information and to apply
---
Due to increased workload, Re-Gen Waste require a dynamic Welder/Fabricator to join their engineering team.
The successful candidates will be required to fabricate both on site and at their state-of-the-art workshop, manufacturing parts and machinery for their main recycling facility, conveyors, screens, railings, fire escapes, structural steel and walkways to name a few, always ensuring a high-quality standard is achieved and maintaining that our Health and Safety policies and procedures are always adhered to. 
Click here for more information and to apply
---
With work due to start on their new site Re-Gen Waste have an amazing opportunity for the role of Site Engineer reporting to the Site Manager.
As a successful candidate, you will be fully capable in setting out and managing site duties. You will ideally have experience across all areas of construction including drainage and earthworks as well as building and structural work, specifically steel frame or concrete frame structures, specifically on commercial schemes. You must be CSR qualified to be considered successful for this role.
Click here for more information and to apply
---
Re-Gen Waste are currently recruiting for a Bale Operator role to join the team in Newry.
The successful candidate will be based within the Waste to Energy plant and will be required to bail material whilst also ensuring KPI's are on target, in doing this you will be responsible for cleaning the strapper, wrapper and keeping stock control.
The candidate must follow H&S policies at all times and work as part of a team whilst keeping their work area clean.
Click here for more information and to apply
---
Re-Gen Waste are currently recruiting for the role of General Operative with quality control duties to join the growing team based in Newry working within a Waste to Energy plant.
You would be working in a busy waste management environment where the main purpose of the role would be cleaning duties around the plant, maintaining safe working environment and performing quality control duties.
Click here for more information and to apply
To view more job listings click here