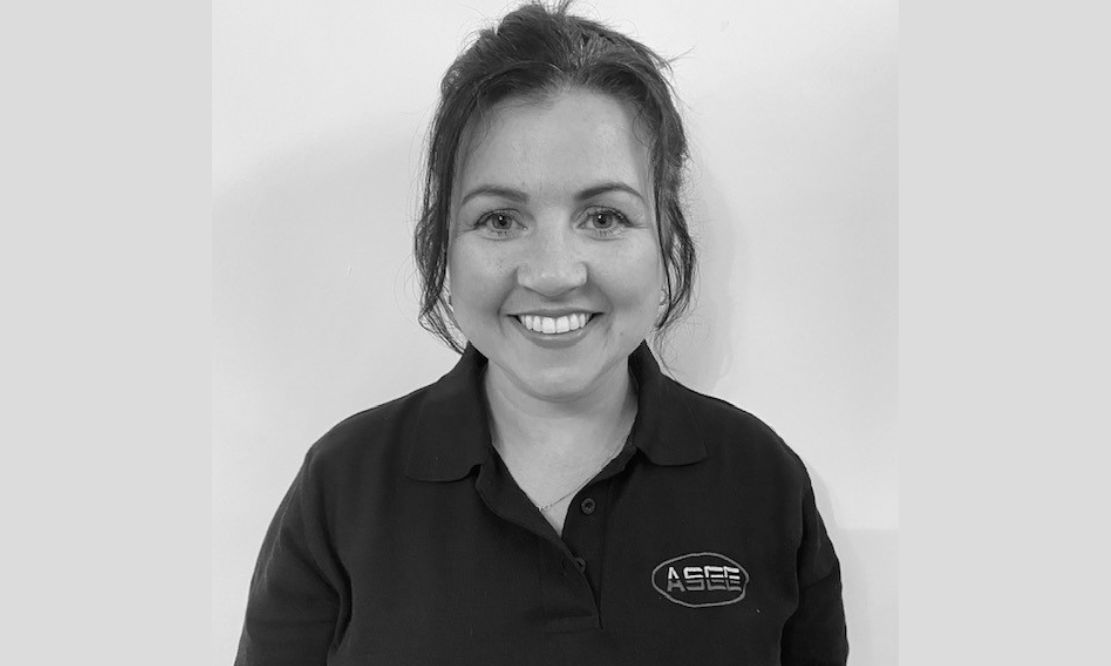 ASEE's Ceallach talks move from manufacturing to procurement
Just seven months into her new role with ASEE, Rostrevor's Ceallach McSwiggan, has found a new lease of life in the company's procurement department.
After 16 years in manufacturing and production, Ceallach needed a change.
Now, working as a Buyer for the family-run electrical engineering firm, Ceallach's day involves everything from ordering materials for sites in Ireland and across Europe to dispatching material from HQ to site.
Her advice to anyone thinking of a move into procurement, "go for it!". Ceallach says purchasing is a 'global profession' and that there's always plenty of work available.
How long have you worked in ASEE?
I started in October 2022. So just over 7 months, the time has flown so far.
Why did you choose being a Buyer as a career/business?
To be honest I didn't choose a career in Purchasing it just happened over time.
I graduated as an Engineer and started out my career in Engineering where I worked in Pharmaceuticals, I then changed jobs to work as a Sourcing Engineer for a company that manufactured lifting and material handling equipment.
Working as a Sourcing Engineer lead me into the purchasing department, after working in that department for a period I decided to do my CIPS qualification and have been working in material planning/purchasing ever since.
What is your role in the company and what does a typical day entail?
I work in the procurement department as a Buyer.
My day consists of ordering materials for our sites in Ireland and across Europe, liaising with suppliers on pricing and delivery, chasing orders and looking at new potential suppliers as well as dispatching material from HQ to site.
What was your route into the company?
After 16 years with my previous employer, I was looking for something different. I predominately worked in production and manufacturing, so it is a welcome change to work in a different sector.
What are your best skills that help you in this role?
Having previously worked in Planning/Engineering and Purchasing has given me a wide range of skills that I can use at ASEE.
What makes you proud to work for this company?
I am proud that ASEE is a family run, Irish Business that creates so many jobs in the local area. It has gone from strength to strength over the years and continues to grow.
What were your favourite subjects at school and why?
I absolutely loved Maths; it came easier to me than the other subjects. I also liked Art as I enjoyed painting and pottery.
Did you go on to university or further education and what did you study?
Yes, I went to University. I have a 2:1 BEng Hons in Mechanical Engineering with DIS and CIPS Level 6 (Chartered Institute of Purchase and Supply).
What would your advice be to anyone thinking of it as a career?
Go for it! There is always plenty of work in Purchasing. Purchasing is a global profession; you can easily move around the world to work in different sectors.
Did you always have this career in mind?
No, I started out in Engineering and gradually moved into Purchasing.
What is your favourite thing about your job?
I particularly enjoy working in a team environment and I have learnt a lot by collaborating with the purchasing team. I like the fact that every day presents me with different challenges.
What has been the biggest challenge in your job?
Brexit has caused many challenges for procurement and shipping.
What is the most helpful advice that you have been given?
Listen more than you talk and don't miss out on something that could be great just because it could also be difficult!
If you could choose anything else to do, what would it be?
If I was to do something different, I would probably choose to be a veterinary nurse or paramedic.
What do you think your best quality is?
I'm always willing to help where needed.
Name three things that you like doing outside of work.
Socialising with friends and family, travelling and skiing.
Tell us about a secret skill that we don't know you have.
I play the saxophone.
What is your most prized possession?
My Grandmother's Wedding ring.
What is your favourite food?
I'm a fan of most food but my favourite would have to be Indian.
What is your favourite book?
I don't think I have a favourite book, but I did enjoy Billy Connolly's Autobiography. I also enjoy reading books by Ross O'Carroll Kelly.
What are you currently watching?
Kin on RTE.
If you were to watch a band/singer live, who would it be?
I would have to choose the Rolling Stones; they are amazing live!
Dead or alive, who would you most want to meet and why?
I'm an animal lover so I would have to say Sir David Attenborough, he's a legend!