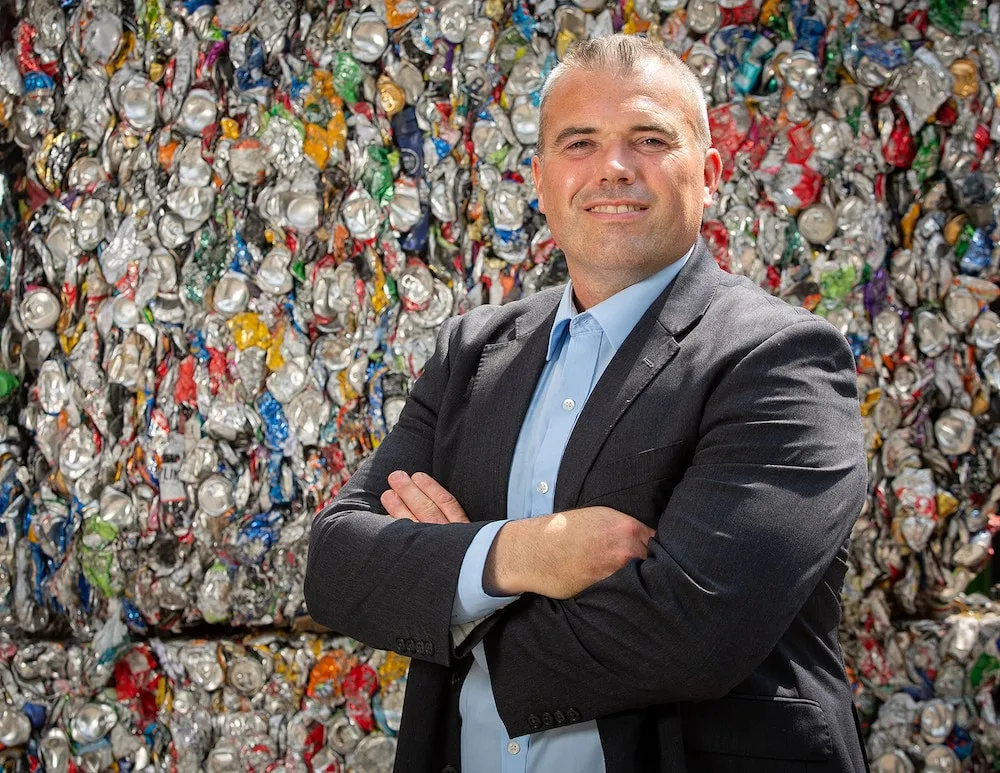 How three Newry brothers built a multi-million pound waste recycling business
It's a waste of time. While the pun is fully intended, that's the sort of encouragement Joseph Doherty and his two brothers, Colin and Aidan, were getting as they conceived the idea that would become Re-Gen Waste back in 2004 – a Newry company set to turnover £70m in revenue this year.
Joseph openly admits he didn't know the first thing about waste back in 2004. He had spent the previous three years working in his father's construction business after completing a construction management degree at university. His brother, Aidan, had been to Canada and knew there was a future in waste. Joseph agreed – they were slightly ahead of the curve.
But as Joseph attests, they needed a focus; waste was such a wide and varying field, so they narrowed in on what they wanted to achieve.
"If it makes me look smart, I'll say it was deliberate," he laughs. "I think back to how little I understood and knew. We wanted to get into waste of some sort but that's like me saying I want to be a builder. You have to decide what you want to focus on.
"I did a lot of, what we talk about, talking to people at the crossroads, and it's just a simple term of going out and listening, learning, talking and absorbing everything in.
"Looking back, I was doing the research, my brothers wanted me to design up a plant that would do any waste but being everything to everyone, you become nothing to no one. And it was a risk to go niche because you pick the wrong niche and you're over."
---
This interview first appeared in our dedicated Entrepreneur NI newsletter – sign up here to receive it directly to your inbox every Sunday morning.
---
One of the things Joseph and his brothers understood at the time was the Northern Ireland waste strategy; soon every household had to have a bin or a box. Customers were coming, they didn't know when exactly, but they were coming.
"We had a strategy. Recycling bins are going to be put to every house. It's not there yet, but it will grow. What I liked about the recycling bin – its contents were all valuable."
It was still early days for councils too; they were trying to do their bit for the environment but more often than not it was costing them more to do that. The investment in new bins was not ideal for these traditionally cash-strapped public entities.
Being a Newry company meant the natural first target for Re-Gen was Newry District Council, as it was known at the time.
"When I put in the contract for Newry, I wrote it up and when you look back, it was like child's work. But at the end of the day, what matters is that the next best option they had was Belfast. You can't drive a truck all the way to Belfast.
"We were actually okay value wise so that contract was the anchor for us, and I would always hold Newry up as a shining light. It's an example of a local council supporting a local company to get going. What that did for us was create a catalyst.
"Whenever I put in a tender in Liverpool for recyclables; when they rang Newry Council for a reference, the Council were able to confirm we were a bonafide company and good guys to boot. That meant a lot because we could go out, we could show our credentials; we were able to sort recyclables, we were able to deal with it and there were no problems."
Contracts in the Republic of Ireland, England, Scotland and Wales all followed. Fortunately, the Doherty brothers had built a plant capable of sorting double the recyclables Northern Ireland could produce. The Newry plant is now the second largest sorter of recyclables in one site in the whole of the UK – the largest being in London, naturally.
But it all could have been so different had it not been for a few naysayers.
"We nearly had a very cheap plant built only some of our competitors challenged us on it and that was the best thing that could have happened. That conversation led us to invest in a far bigger plant. They tried to scare us, and in doing so, actually had the opposite affect and pushed us on.
"We told them what we were going to order for the plant; we were being open and transparent which we probably learned from our father's business. They said, 'guys, that's not efficient, that will not work'. But, if truth be told, I think they tried to scare us into making a bad investment.
"But in the sense actually they were right, we did need bigger, so we went off and we invested properly. We went to America and picked the best machinery in the world. I was 24 years of age and my brother, Colin, he was 26."
While he's an advocate of people taking the leap in business, Joseph is not one to shy away from the influence his dad – Joe – had on him and his siblings. He's immensely proud of his father and what he has enabled all his children to achieve.
"I put anything I knew pre-24 down to having worked and learnt from him, watching him every night at the dinner table; it was business, he was telling us the problems he had. He had the same problems we have experienced, it's just in a different guise. That left us ready in some ways and maybe not in others.
"When we work with our father we just worked like hell and did the best we could. We didn't have to deal with banks, we didn't have to deal with debt, didn't have to deal with problem people, we didn't have to let people go, we didn't have to deal with any of those things, we just had to work and probably we came away with a work ethic but perhaps a lack of roundedness in running a business."
Without their dad there would be no Re-Gen today. It was his guarantee that allowed his sons to borrow the money from the bank for the plant. In terms of trust – it was unwavering, so much so, Joe kept his distance from Re-Gen throughout those early years.
"He looked after his business, we looked after ours," said Joseph. "He guaranteed us at the start. We were spoilt in a sense but we got rid of that guarantee after making a deal with the banks when we hit certain targets.
"Dad took a chance but won in the end. He got us away from the home farm, so to speak. We didn't hang about and wait on the farm to be given to us. If we had have stayed with his business it would have always been daddy's.
"He trusted us and I often look at it like the coach on the side of the football field. If you're a coach on the side of the football field roaring at your team, you've failed, all your talking needed to be done the week before the game. I think the same here, we had worked with him for years, he was going, 'Well, I know it's in safe enough hands, I know they will mistakes but I know that they'll talk to me if there's a big problem, or they'll sort it out between themselves'.
"We got to make our own path and I think that was an awful important thing to have got. If we were still there, it wouldn't have worked because you always would have gone back to daddy. The buck stopped with us; it was a bit crap sometimes but there's great learning in that."
While Joe is an evident inspiration in his son's life, Joseph says his approach to the business is markedly different to that of his father.
"Dad would have been the man to open the gate on the construction site in the morning and locked it at night whereas Re-Gen runs 24/7. This business needs a bigger structure. In his business he was the limit to his structure.
"When he was running a construction company, he needed to know everything that's going on everywhere and that was great but as he grew the business, and as he grew, he was fit to handle and expand that by percentages. You could never double that, because he hadn't the management team to double it.
"We had to take in a management team and trust people to make mistakes and [the fact he didn't do that], that probably set him a limit. But the thing is, you're in higher risk category, whenever you go to that bigger place too."
Joseph and his siblings are surrounded by a "very good team of very good people". Re-Gen's growth has stemmed from Joseph's understanding of the need for delegation and knowing that maybe he's not necessarily always going to make the best decision for the company – even if his heart is in the right place.
"I have people who would make decisions better than me, it's about finding those people. There'll be people who make things worse but it's about trying to catch the fall on that too – and that's my job, but there are people who will make great decisions and you have to trust that.
"A lot of our senior people here have been with us 15+ years so they know what we're thinking before we think it. That's built over time, you can't just make that happen over a year, it takes years – that takes you going through bad times and seeing how you handle it."
More than anything, it's a lifestyle decision for Joseph. Days of working dusk 'til dawn are behind him, in one sense. A lot has changed since his early 20's – even back then he didn't harbour any ambition to lead a multi-million pound company.
"I was 24 years of age and I didn't have no big debt; look if it failed, I would have started work somewhere else the next day. Nowadays I would probably be much more cautious as you have a lot more, so it's just a different mindset".
Joseph has a 15-year-old stepdaughter, two sons aged 6 and 4, a two-year-old daughter and one on the way. His priorities have changed.
"Admittedly, in the last six or seven years, I've been a very different person than I was in the previous 10 or 15. I suppose I had to do those 15 years to get my head up.
"I sometimes worry for somebody when they're building a business, and trying to raise a family at the same time. It's a big challenge both ways. I got married at 36. I was able to put everything into the business before that. Maybe that's why I didn't meet anyone until later," he joked.
It comes back to that 'being everything to everyone' for Joseph, and he needed to apply that same principal to himself on a personal level.
"It's a lifestyle decision to change as well, to go from knowing every truck, every person in the company, to now, I don't know every person and every truck. At a point there wasn't a thing I didn't know. Now I have to accept it's different and I feel a bit of a fraud sometimes when I'm talking to those in the business because I'm not actually on the button every day."
Joseph is safe in the knowledge that he spent that first decade and a half "getting the team right".
"The quality of a good leader is somebody that isn't needed," he said.
"Now, every time I get a bit of freedom, and a bit of space, I try something new, trying to make the business as rounded as possible. A person like me in a business should have an awful lot of free time to go and talk to people, read articles, think about the business, think about the future, that's where I need to be investing my time. It's easy to go back to what you know but you have to fight that."
Part of becoming more rounded is developing a structure. What may surprise people looking from the outside in, is that Re-Gen didn't really have the required structure up until 2016, and even now, Joseph admits it's a work in progress.
The company brought in Richard McMcMullan in 2016 to help develop a growth strategy and redesign their organisational structure.
"There was no structure up until that point. If there was a lorry problem we [the brothers] were all on it, we were all doing the same thing and that was just counter-productive."
Joseph now operates as the company's Managing Director, while Colin is Operations Director. Aidan, a founding director, is now Managing Director of Re-Gen Robotics. Their sister, Celine Grant, succeeded Aidan as Commercial Director. Aidan remains a Non-Executive Director at Re-Gen Waste. Oldest brother John is Director of Organisation and Business Development.
Outside of Re-Gen, there's Brendan — the MD of Connex Offsite — while Gerard, a mechanical engineer, has started Versaffix, which manufactures tiltrotators.
"We have a meeting every couple of weeks – there's a good etiquette in that now; it's not perfect but it gives us some sort of direction. We're on course to do £70m in turnover this year and there's no way we could grow without structure, the wheels would come off otherwise."
Having a good internal structure has been vital to Re-Gen's remarkable growth. On the outside, away from the daily operations of running the business, networking has been an important aspect to furthering the firm's footing in the market.
Joseph is part of the Vistage Group, a network of top executives who shoulder the weight of their company's most important decisions. Their failures – and successes – provide valuable insight for the ever-learning Managing Director.
"It's other people in the group you really learn from and it's the other businesses and their problems that allows you to constantly sharpen the knife – make you better at what you do. And it's important to put on your own mask, basically to educate yourself so you can help the business, allowing that knowledge to trickle down. That's a little easier to do now as the business has scaled."
Continued growth, coupled with an insatiable appetite to know more can be both a blessing and a curse. For Joseph, like many entrepreneurs, some of his best ideas come to him when he least expects them.
"Some of the best things I think about, in terms of sorting the business or solving a problem, is when I wake up at three in the morning. I'm then able to come back into work the next day with that problem solved. But what that says is, you're not getting free time anywhere else, and as a result you're waking up in the middle of the night thinking about it."
Work-life balance at this stage becomes critical and Joseph is aware of that need to get the scales tipped more in the favour of life. Despite running a demanding business, Joseph sees the need for the more important things in life; he's not a man driven by personal wealth.
"I think the people that are driven by money, the energy comes off. None of us are driven by our number at the end of the year. Success for us is raising good healthy children that are honest and have integrity; children that, in the end, can be their own people – anything else is failure.
"As a business, we have to be careful we don't lose our way. Yes, we're a big business now but it could easily be something else. It's Top of the Pops today, but not everything stays at the top forever. For us it's about the long-term sustainability and that our staff see that we're not prepared to sell ourselves down the road for an extra few pound. It's about that integrity and that sustainability."
And like his father before him, Joseph is imparting his values onto his own children.
"I spent a holiday (time off work) recently driving a digger and rock-hammering with my son on my knee. That was the best therapy I ever got. All the psychologists in the world and I said to my wife, 'it'd be better if I sat in that digger for a week' because I loved it – no problems, no tax, no emails, no nothing. And my son is learning from me. For me, it's about having them being the best they can be when they're older."
Whether his children will forge their own path, or work in the family business, time will tell but Joseph will no doubt impart his own wisdom upon them when that time arrives. For those looking at starting their own company, Joseph is a firm believer that "anybody can make any business work".
"I think that if you're choosing a business, you need to choose something that has the possibility of growth over the long-term. For us, waste had that growth. It was something that wasn't being done by anybody else. You need to look at something where you've less competitors, that gives you a better chance of survival, even if you fail a bit. Focus on it and be tenacious."
To view more job listings click here