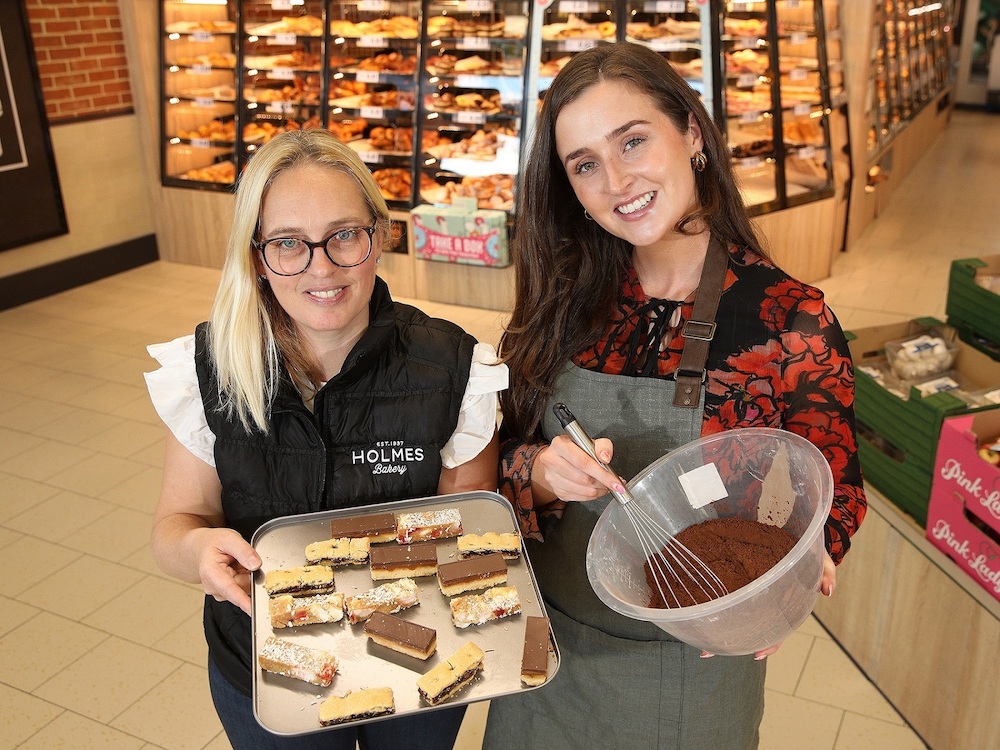 Jobs boost as Portadown bakery secures new £200,000 Lidl deal
An award-winning bakery in Portadown is the latest food supplier in Northern Ireland to secure a major contract with supermarket retailer, Lidl Northern Ireland.
Holmes Bakery, which has been producing handcrafted sweet and savoury treats since 1937, will expand its 20-strong workforce by a further three employees as part of the £200,000 deal which will add fifteens, caramel fingers and sweet mince slices to more than 40 Lidl stores across the region.
The family-run company, which was acquired by Woodwin Catering in 2009, won an initial supplier contract last year following its involvement in the retailer's Kickstart Supplier Development Programme in 2021. Holmes Bakery make a range of premium handcrafted bakery goods using traditional methods.
Its partnership with Lidl Northern Ireland is a significant milestone for the distinctive Holmes Bakery brand that has won several awards for its products which it makes from a state-of-the-art production facility in Craigavon.
Lidl Northern Ireland has said its latest sweet deal with Holmes Bakery was part of its commitment to supporting innovative local suppliers and expand its range of locally sourced food and ingredients for shoppers across the region. Last year, Lidl Northern Ireland sourced nearly £350 million worth of goods from suppliers in Northern Ireland.
Welcoming the new contract, Lidl Northern Ireland buyer, Zoe Russell, said: "Local suppliers are the bedrock of our success and we're excited to be further investing in and championing another home-grown company which continues to prove itself as one of the region's most ambitious and innovative companies.
"Our new supply contract with Holmes Bakery underlines the growing popularity of its products with our customers and expands the range available to shoppers while also helping to create new local jobs – it's a sweet treat for everyone."
Lidl Northern Ireland's brand proposition – Big on Quality, Lidl on Price – continues to resonate with local shoppers. According to Kantar, the region's fastest-growing supermarket retailer now has a 9.2 per cent slice of the market after reporting the strongest growth among all retailers – up 27 per cent year-on-year.
Holmes Bakery Account Manager, Gillian Castles, said: "Our newest supply deal represents a significant milestone for our team and is a testament to our own focus on providing quality products and ingredients that consumers want to buy. We are delighted that Lidl Northern Ireland is continuing to invest in Holmes Bakery as it enables us to invest further in building our team and in growing our award-wining range of products."
Last year, Lidl Northern Ireland ploughed a record £347 million into the agri-food industry in the financial year ending February 2022 and supported 60 local producers to success.
Almost £300m worth of goods procured locally were exported globally through Lidl's expansive store network, reaching new customer bases across Europe from Britain and Ireland as far as Romania, Greece, Cyprus and even to the USA. Lidl Northern Ireland employs more than 1,200 people across its 41-strong store network and regional distribution centre in Nutts Corner.
Other local companies supported this year by Lidl Northern Ireland include Enniskillen-based artisan condiment supplier Erne Larder and apple producers Natural Umber, based in Dungannon.