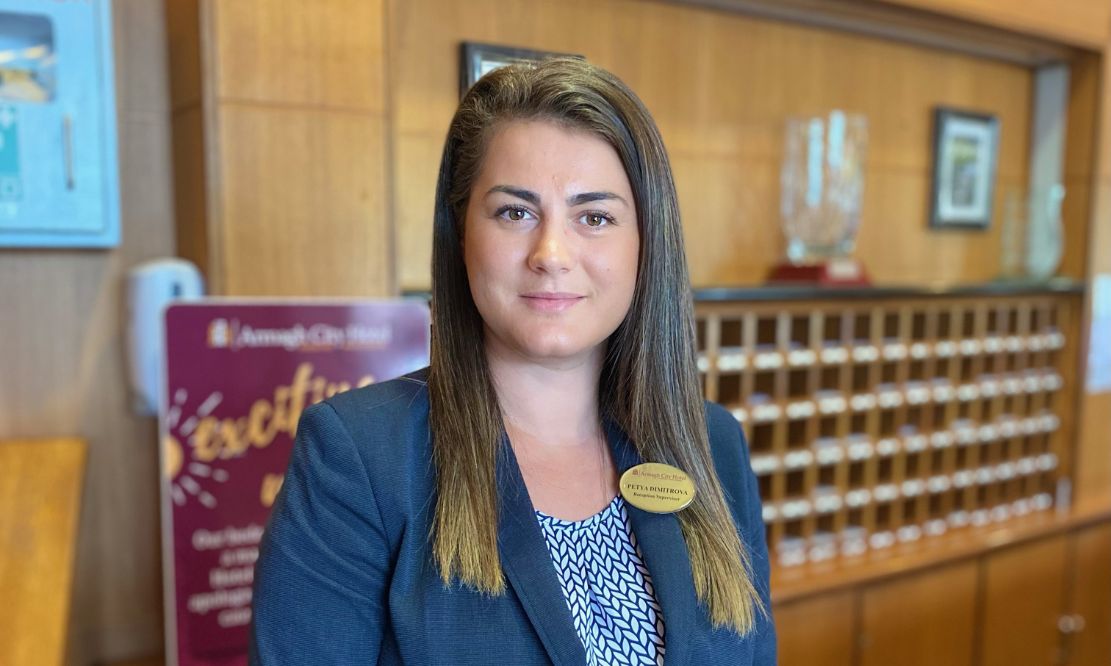 5 minutes with… Petya Dimitrova Dawson from Armagh City Hotel
Hardworking and dedicated Reception Supervisor, Petya Dimitrova Dawson is a proud member of the Armagh City Hotel 'family'.
Petya's passion for her work resulted in her professional development to a supervisory role where she continues to enjoy working closely with her team and guests alike.
She champions the reception team for their professional attitude, support of one another and desire to always accommodate the customer.
Why did you choose being a receptionist as a career/business?
I chose this career path as I enjoy meeting new people, I have a keen interest in the world of hospitality and working with the public. I wanted to further develop my communication and inter-personal skills; I find that this job has allowed me to excel as both a person and a member of a team.
What are you most proud of in your career to date?
My professional development and progression to reception supervisor has made me very proud. I believe it reflects my hard work and dedication to the role and team.
What is your favourite thing about your job?
My favourite thing about this job is meeting new people and working with the public, I love having a feeling of belonging in the Hotel's family. Each of us works hard to help each other and support each other.
What has been the biggest challenge in your job?
In this industry it can be difficult to find a way to please everyone, unfortunately sometimes this is impossible to do, but as a proud member of the reception team we will always try our best to accommodate the customer.
What is the most helpful advice that you have been given?
I think its really important that while you perform in a professional sense it is always important to be true to yourself and stand by what you believe.
If you could choose anything else to do, what would it be?
As a little girl I always wanted to be a police officer.
What do you think your best quality is?
I have to say regardless of what position or role I am in, I will always devote 100% of myself to the task at hand. I find that my ambition and passion is my greatest attribute as it has helped me get to where I am now.
Name three things that you like doing outside of work.. 
Outside work, I enjoy cooking, going to the cinema and walking.
Tell us about a secret skill that we don't know you have.
I am most proud of my bilingualism, my ability to speak both fluent English and Greek has always brought me pride and joy.
What is your most prized possession?
My most prized possession, is my first baby shoes.
What is your favourite food?
I enjoy testing variety of different cuisine, one of my favourite is Thai food.
What are you currently watching?
At the minute I'm watching hi-jack with Idris Elba, I'm thoroughly enjoying it!
Dead or alive, who would you most want to meet and why?
I would have loved to have the opportunity to meet any of the Royal Family members.