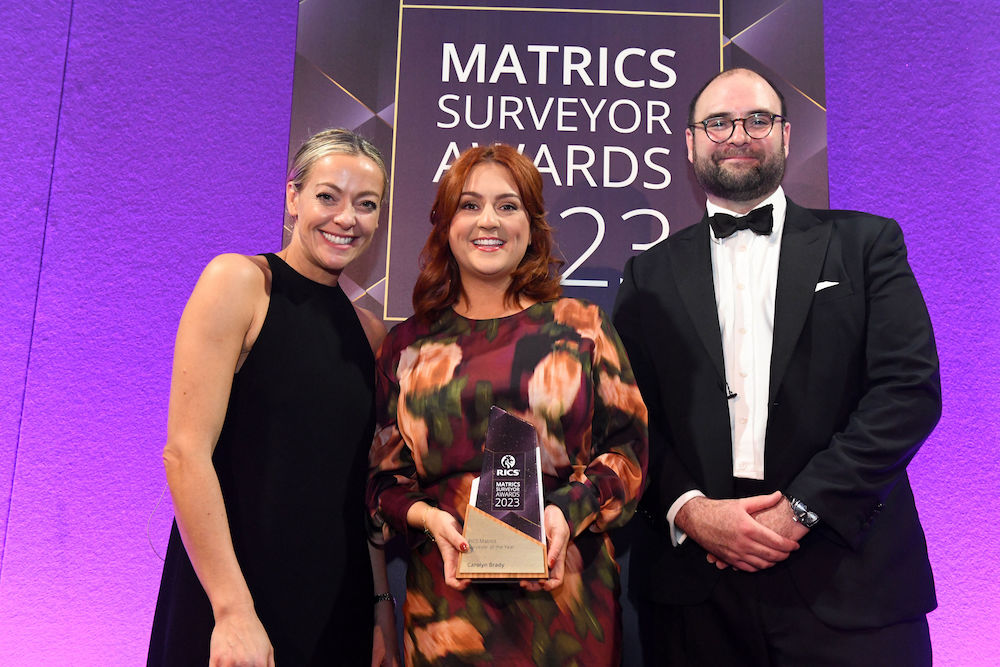 Inspiring STEM ambassador from Lurgan named RICS Matrics Surveyor of the Year
Lurgan-based surveying professional Carolyn Brady has been crowned Surveyor of the Year at the RICS Matrics Surveyor Awards, which recognise the most inspiring and influential surveyors who have been qualified for up to 10 years.
Carolyn, a building surveyor and regional lead partner for global quantity surveyor and construction consultancy firm Rider Levett Bucknall, won the Building Surveyor/Control Surveyor of the Year award, in addition to securing the overall RICS Matrics Surveyor of the Year title in the face of stiff competition from other category winners from around the UK.
Carolyn was one of five women on the list of 11 category winners in a year when female professionals represented just under 45% of those shortlisted, despite making up just 18% of UK surveyors.
The number of women shortlisted this year was 150% higher than in 2018, and 350% higher than in the award's inaugural year in 2014; an increase that has happened in a period when representation of women in the industry has become much stronger with many more female role models.
The judges described Carolyn as "someone who inspires others and supports them with passion and commitment to the profession. Driven by a desire to make a change and transform the sector was clear in this submission and it is why they are a worthy winner."
 "Already a leader in our sector, an incredibly strong application that is very impressive.
 "This candidate is head and shoulders above many in respect of giving back to the profession."
Carolyn is a Liverpool John Moores University building surveying graduate who worked with Atkins in Warrington, England, before starting with Rider Levett Bucknall in 2017.
Carolyn was responsible for opening Rider Levett Bucknall's first office in Northern Ireland and in a short space of 18 months, she grew the team to 16 across building surveying, project management, quantity surveying and health and safety disciplines.
Carolyn has been an active member with RICS over the years, she has been an APC counsellor and assessor for the past four years, and in 2021, Carolyn was appointed the RICS NI regional board, and chairs the RICS Northern Ireland High Street Regeneration Forum.
Marking a decade of these awards, the winners were announced at a ceremony hosted by TV presenter Cherry Healey on October 20 at The Londoner, Leicester Square. The following surveyors were recognised for their outstanding career achievements in their respective sectors and disciplines:
RICS Matrics Surveyor of the Year: Carolyn Brady – Rider Levett Bucknall UK Limited
Apprentice of the Year: Max Chambers, Arcadis
Building Surveyor/Control Surveyor of the Year: Carolyn Brady, Rider Levett Bucknall UK Limited
Commercial Property Surveyor of the Year: George Hooton, Hootons Commercial
Facilities Management Surveyor of the Year: Jassimran Lall, Vail Williams
Land (Rural and Urban) Surveyor of the Year: Ginny Banham, Fisher German
Project Management Surveyor of the Year: Laura Hibbs, Pulse Consult
Quantity/Construction Surveyor of the Year: Matthew Collett, AECOM
Residential Property Surveyor of the Year: Joseph Ellison, Pinnacle Surveyors
Valuation Surveyor of the Year: Joshim Uddin, London Borough of Tower Hamlets
Ambassador of the Year: Philippa Sampson Bancroft, Greater London Authority
Mentor of the Year: Sam Nicholson. Wakefields Chartered Building Surveyors
 This year's judging panel consisted of 18 industry leaders including Justin Sullivan, RICS Senior Vice President who said: "The RICS Matrics Surveyor of the Year Award is a true testament to Carolyn's dedication to the industry over the years. She is a well-deserving winner who goes above and beyond for not only her company, but also RICS in Northern Ireland. 
"Year on year we see immense levels of talent from high-achieving professionals who are the industry's future leaders. Each winner is having a profoundly positive impact in their local community, and we're proud to champion and recognise the hard work of each of these surveyors."
Full details on each category winner can be found here.
Check out the latest jobs in Co Armagh here.