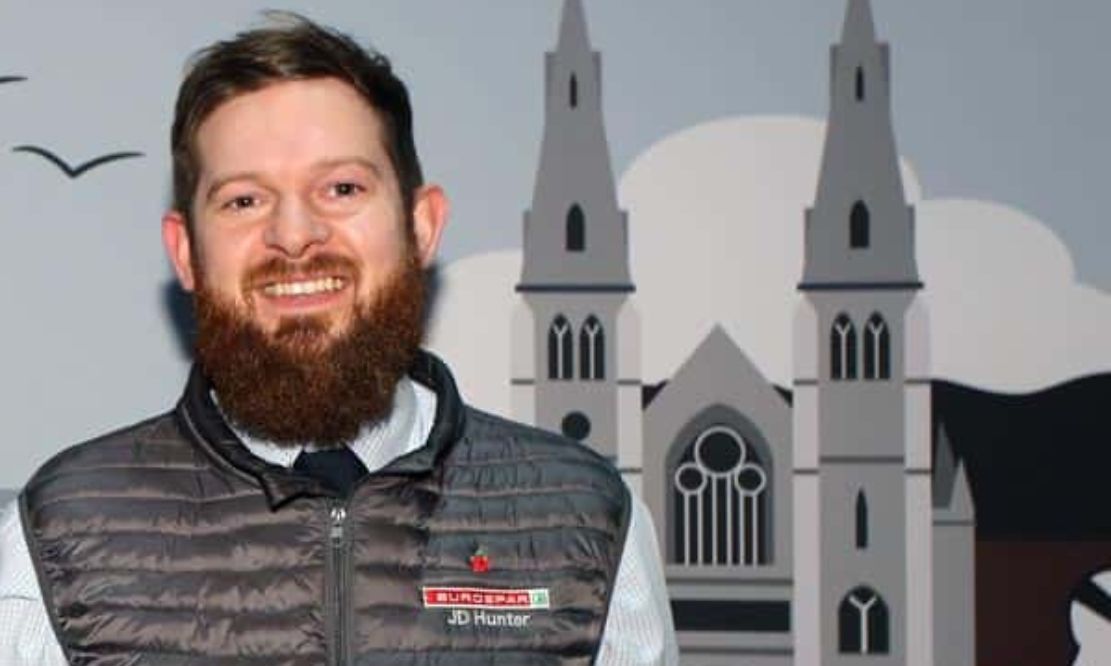 JD Hunter's Chris McClure is 20 years in retail and still loves the challenge
Chris McClure, Store Manager at JD Hunter & Co. loved certain subjects at school because of how he experienced life outside of it. French, for his love of French holidays, science for his love of nature and music… for his love of music!
However, what we enjoy learning about and doing recreationally doesn't always make for an enjoyable work life. A part time role in retail set Chris on a path he was not to veer from. His zest for life, need to be kept busy and desire to engage with people all contribute to making him a wonderfully well-rounded Supermarket Store Manager.
What is your role in the company and what does a typical day entail?
Store Manager of JD Hunter & Co.
A typical day consists of leading the team to deliver the best possible shopping trip for our customers. I walk the shop daily to ensure that the availability is at the right level for customers whilst engaging with them on the shop floor to understand any opportunities we may have as a shop.
What was your route into the company?
I have worked in retail from 2002 and have performed a number of roles within the sector. I have worked nightshift, been a deputy manager and a personnel (HR) manager among all other areas of the shop. After the takeover in 2019 there was an opportunity to apply for a job in JD Hunter as General Manager (store manager) which I decided to apply for.
How long have you been involved in this type of work?
I have worked in retail from 2002 and been a manager in retail in varying capacities from 2007.
Where did you work before this?
I worked in Tesco for 18 years before my move to JD Hunter.
What were your favourite subjects at school and why?
I enjoyed Science, French and music at school. Science came from an interest in nature and the outdoors. French from family holidays in France when I was at school and music speaks for itself!
Did you go on to university or further education and what did you study?
Went to Edinburgh and studied Biology but a career in the subject wasn't for me.
Did you always have this career in mind?
I thought at a young age I would have a career in science, but a part time job made me discover a passion for retail and buzz of life being involved in running a shop.
What do you enjoy about it?
I love that everyday can be different and each day presents new challenges with equal rewards. Always striving to produce that perfect shopping trip for customers.
What are the main skills required for it?
An ability to lead a team and build strong sustainable relationships. You need to have good communication skills and be a great listener. Lastly you have to enjoy a challenge!!
What would your advice be to anyone thinking of it as a career?
I would say as a career it's a great opportunity to learn new skills which can be transferable to pretty much any job. It can be very rewarding and great way of meeting new people building a sustainable network.
There are many avenues within retail and it's not all about working in a shop, HR, distribution, procurement, technology and product development are only a few areas that you can test your skills!
If you could do any job in the world, what would it be?
Professional golfer…enough said.
How do you relax when you're not working?
I spend time with the family. The perfect way to unwind when not working. I have a 3-year-old daughter called Martha, an 8-year-old son called Isaac, my wife Rachel and our dog Tilly… and child number 3 due early in 2023.
Read more about JD Hunters & Co. here
If you would like to take part in our job profiles please email marketing@armaghi.com