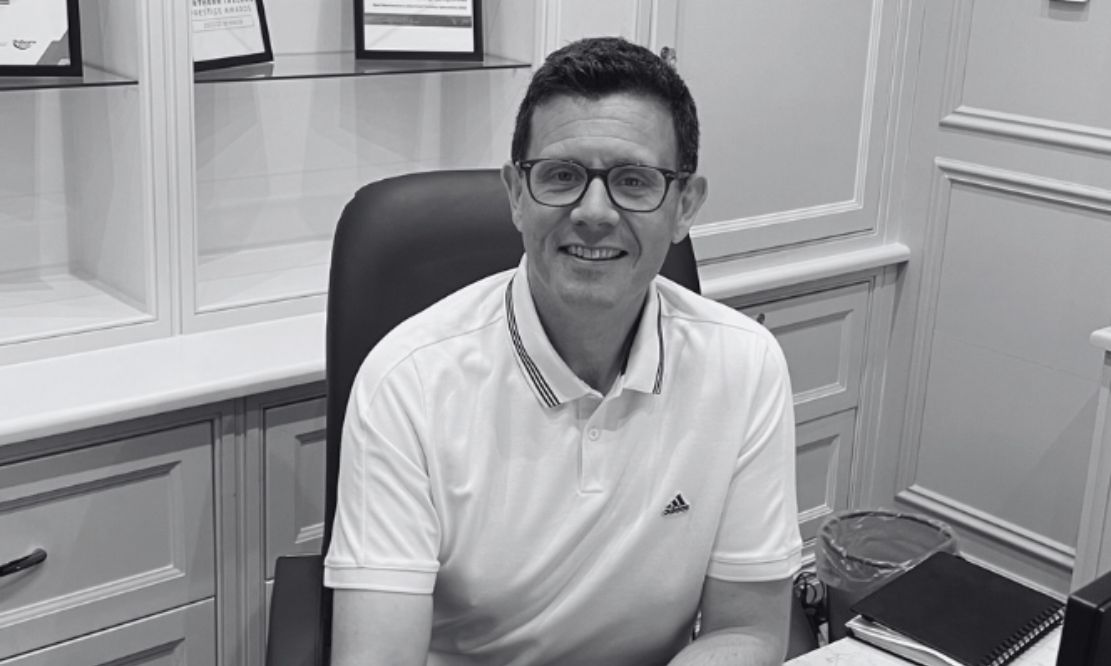 ASEE's Group Finance Director says accountancy isn't "only about the numbers"
By his own admission 46 year old Ronan McGuirk 'fell into' his role in Accountancy. He became familiar with ASEE over a 25 year period whilst working for the company's accountancy firm and so, when offered the chance to join the team – he jumped at it.
Now working as the company's Group Finance Director, Ronan enjoys the variety his role brings.
Ronan views his role holistically, refusing to accept the commonly held belief that accountancy is only about crunching numbers. "It's not only about numbers" he said. "It's more about identifying problems and creating solutions".
Why did you choose being a Chartered Accountant and Chartered Tax Advisor as a career/business?
I fell into it really. I started studying economics at university, and didn't enjoy it so I dropped out and went down the Accounting Technician route with a firm of Accountants in Newry. I started as an Accounting Technician, then qualified as a Chartered Accountant and enjoyed the tax side of the business so qualified as a Chartered Tax Advisor.
What is your role in the company and what does a typical day entail?
My role here is Group Finance Director, and there is no such thing as a typical day. Today I was dealing with the bank, dealing with Dutch VAT, payroll processes and I have a call with our sister company Red Bear later, however, tomorrow's plan, is completely different. No two days are the same here, but that is why I enjoy it, I like the change and to keep busy at different things.
What was your route into the company?
As I mentioned, I had worked in an Accountancy Firm, who were in fact ASEE's external accountants, so I had been in and out of the head office here a lot over the last 25 years. I fancied a change from my workplace at the time, and luckily Aidan offered me a job, and I have been here ever since!
What are you most proud of in your career to date?
I really enjoy helping people succeed and seeing them do well.
What were your favourite subjects at school and why?
I enjoyed languages. My A level subjects were French, Economics and Sociology, I enjoyed all of them, but in particular I really enjoyed French.
Did you go on to university or further education and what did you study?
Yes, when I first went to university for 1 year and then left to pursue the Accounting Technician Route, now known as Higher Level Apprenticeship. A great way to earn and learn.
What would your advice be to anyone thinking of it as a career?
I would recommend accountancy as a career as you will gain a very broad and wide-ranging set of skills that you can take anywhere in the world and work in any business sector.
Did you always have this career in mind?
No, I never planned on getting into an accountancy role. At one stage, I wanted to be a teacher, but I got into Accountancy and really loved it!
What is your favourite thing about your job?
I really like the fact how no two days are the same. Accountancy has a stigma that it is only about numbers, but it isn't, it is more about identifying problems and creating solutions.
What is the most helpful advice that you would give?
The two things that sets you apart is your attitude and your contacts. Get to know people, be open to meeting new people and always help people where you can. Attitude is one of the most important traits a person should carry. So, my greatest advice for someone would be broaden your contacts and always have a good attitude.
If you could choose anything else to do, what would it be?
A Professional golfer.
What do you think your best quality is?
A positive Attitude.
Name three things that you like doing outside of work.
Golf, Music, and Exercise.
Tell us about a secret skill that we don't know you have.
I play the Guitar, badly.
What is your favourite food?
I love all Italian food.
What is your favourite book?
Shoe Dog by Phil Knight the founder of NIKE. It's a brilliant book and a mix of sports and business.
What is your favourite TV show?
The Sopranos.
If you were to watch a band/singer live, who would it be?
U2, I was a big fan of theirs over the years, I have seen them live about 10 times – they put on a great show.
Dead or alive, who would you most want to meet and why?
Muhammad Ali, he is a legend.
Related: Armagh City Hotel Receptionist Roland Mikels enjoys world of experience in hospitality