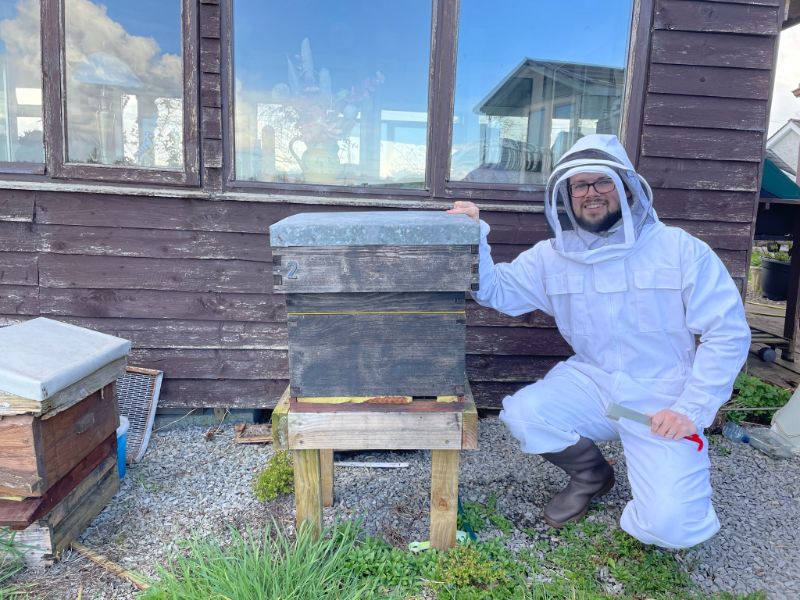 5 minutes with… Andrew McGuire from Chala Chai and Honeybees NI
From tea and bees to balloon modelling, Portadown man Andrew McGuire of Chala Chai and Honeybees NI seems as though he can turn his hand to anything.
Admittedly creative by nature, Andrew tells us how his Fairtrade sticky-chai tea business serendipitously led to his new beekeeping venture. Now in his second year of beekeeping, he talks about the challenges he has faced as well as the multitude of positives to come out of his new found passion.
Why did you choose to become a beekeeper?
I actually got into beekeeping by accident. I run a company called Chala Chai, we hand-make, small batch sticky chai using Fairtrade tea, seven spices, fresh ginger and also honey. We were using so much honey from local beekeepers that I decided to ask one if they wouldn't mind looking after a hive if I bought it all and then would give them a cut of the honey. Long story short, the more I learnt about them, the more fascinated I became and decided to take up beekeeping myself. This is my second season looking after bees.
What are you most proud of in your career to date?
I think starting anything new is an achievement. There was quite a bit to learn about honey bees before taking ownership of them as they are living animals and too many people get bees without knowing how to properly care for them and as a result, bees swarm and diseases can spread amongst other bee hives. I'm proud to be intentional about helping the native Black Irish Honeybee to thrive.
What is your favourite thing about your job?
Eating far too much honey, of course.
What has been the biggest challenge in your job?
The biggest challenge to beekeeping is definitely time management. I am a part time youth worker, I run a business and then there is also family life, so finding time to make sure the bees are well looked after can at times be a challenge.
What is the most helpful advice that you have been given?
An older beekeeper once told me that you can do everything right, get all of your timings correct and do exactly what's needed to be done and things can still go wrong. A popular saying amongst beekeepers is, "The bees don't read the text books." They are living animals and they have a mind of their own, so it's important to not get annoyed when things don't go to plan.
If you could choose anything else to do, what would it be?
I honestly love what I do. Chala (my tea company) is my dream job and being able to do my dream job while also looking after nearly 100,000 bees is a pretty cool job description.
What do you think your best quality is?
I think my best quality has to be my ability to be creative. This often got me into trouble in school as I sat and looked out windows thinking of all the things I could do. You got told off for this, but dreaming I believe has to be encouraged and I love creating something out of nothing. Having the freedom to run a company and do what I want to do with it is very exciting and definitely worth getting up in the morning for.
Name three things that you like doing outside of work…
I like to run, drink tea and get outside on nice days for a walk.
Tell us about a secret skill that we don't know you have.
When I was 18, I set up a balloon modelling business and used to make balloon flowers, dogs, hats etc at birthday parties and fun day events. Covid brought that to an end but it also freed me up to start Chala.
What is your most prized possession?
It has to be the one thing I wear every day and always brings a smile to my face when I see it and that is my wedding ring. It also reminds me of my wedding day which was the best day ever, even if it didn't look quite how we imagined with Covid having meant we had to make a few adjustments.
What is your favourite food?
I have to go with a traditional Italian pizza. What other meal is just as good at breakfast, lunch or dinner??
What is your favourite book?
My favourite book is Red Moon Rising by Pete Greig.
What are you currently watching?
Quantico on Disney+.
If you were to watch a band/singer live, who would it be?
Ziggy Alberts – who I am still yet to see live because of covid but when he finally does make it over, I will be there, front row.
Dead or alive, who would you most want to meet and why?
I would love to go back a few generations and meet a great grandparent and find out something of their background, who they were and if there are any similarities between them and me now.
Do you want to take part in our job profiles contact us on 028 37443043 or email us at marketing@armaghi.com
To view job listings click here