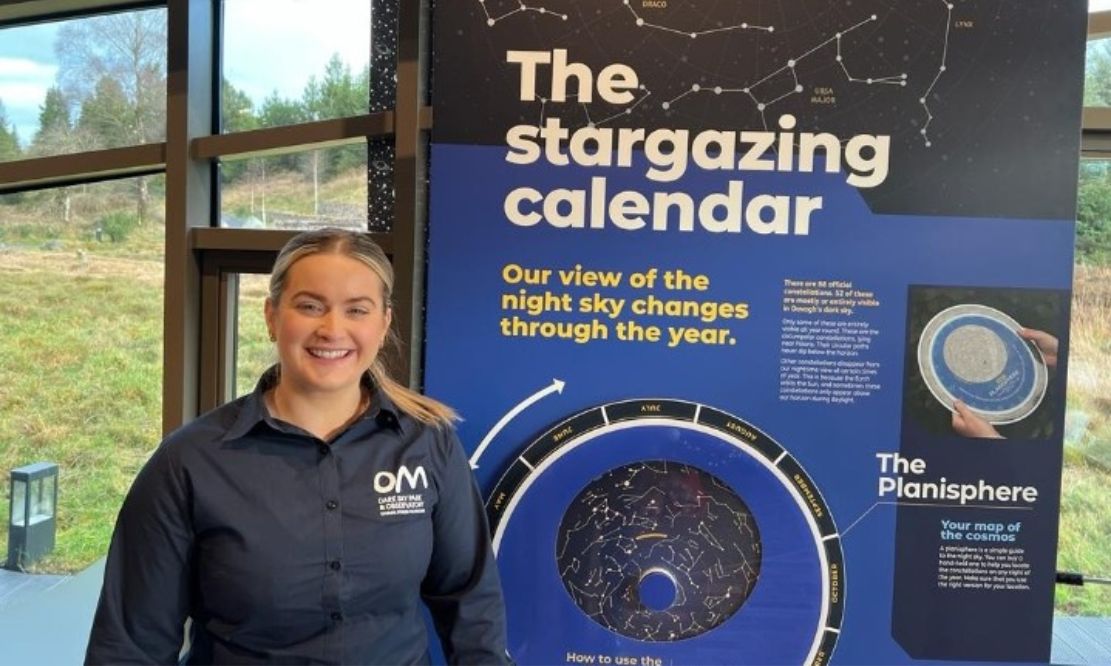 Roisin Doyle finds OM Dark Sky Park and Observatory a 'perfect space' to be part of
Roisin Doyle has always been passionate about health and wellbeing. Whilst – she is the first to say that she never had a strict career path in mind – her job roles thus far and her educational background have all centred around working with people, in settings that have indulged her passion.
Today, Roisin is the Duty Officer at OM Dark Sky Park and Observatory; a role that allows her to enjoy all that nature has to offer. Now working closely with the local community and visitors from far and wide, Roisin strives to provide and enjoyable and educational experience for one and all.
What is your role in the company and what does a typical day entail?
I am the Duty Officer of OM Dark Sky Park and Observatory, Omagh.
I manage the facility, liaise with various stakeholders to ensure visitors receive the best experience possible.
What was your route into the company?
I have always loved being outside in nature, I particularly became interested in Astronomy throughout lockdown. To sit outside and take in the sky's wonders is amazingly relaxing. I love the mix of astronomy, history and nature that we provide here, what a perfect space to be a part of.
How long have you been involved in this type of work?
I have worked here just over a year now.
Where did you work before this?
I worked for the Cedar Foundation, where I gained a passion for assisting individuals to socialise in their communities and combat social isolation.
What were your favourite subjects at school and why?
I have always had an interest in history, I think being able to look back on history is essential for all learning.
Did you go on to university or further education and what did you study?
I studied Psychology in University and I have a passion around health and wellbeing.
Did you always have this career in mind?
I have never had a particular path planned out for myself, but I love being able to work within my local community and to offer a fantastic service to visitors.
What do you enjoy about it?
I enjoy being in nature, to be able to see wildlife each day is magical. I love providing events which can bring joy into someone's life and to show people what the night sky has to offer. Most importantly to encourage visitors to help us on our campaign to preserve the night sky and limit light pollution.
What are the main skills required for it?
I think you need to be a people person, to be organised and not afraid to take risks. We have been lucky with all events; we have been massively successful but its important to be able to think outside the box and always ask visitors and staff for feedback, as without visitors and our hard working staff we would not be the success we are today.
What would your advice be to anyone thinking of it as a career?
My advice would be don't let self-doubt hold you back from anything in life, push yourself and you will be surprised at what you can achieve, always ask for help and never be afraid to take chances.
If you could do any job in the world, what would it be?
My dream job would be to own a health and well being hub. To provide people with a means to educate themselves, provide therapies and be part of a community to better their physical, emotional and spiritual health.
How do you relax when you're not working?
I have several hobbies, I box, lift weights and go for walks with my dog. I also wouldn't refuse a spa day, its great to be able to catch your breath and do things you enjoy.